How foodies felt their way to Swiss blind dining
Total darkness can serve to enhance a top-notch gourmet experience, as Catherine McLean discovered on a recent visit to a trailblazing restaurant where the lights are off and the food's out of sight.
It's lunchtime, but the guests lining up at this Zurich restaurant must first get a briefing on the dining room's rather unusual rules: cellphones and watches must be stored in lockers, and diners must wait for their waiter to guide them personally to their table.
The diners don't mind. These strict procedures aren't the brainchild of some over controlling Maître d', but instead are aimed at ensuring guests have an authentic and safe experience at this unique restaurant.
Welcome to fine dining at the blindekuh, the world's first dining-in-the-dark restaurant. Guests find themselves in a pitch-black restaurant, light-transmitting devices like cellphones having been confiscated at the door. It's a kind of darkness that most people rarely experience.
Since blindekuh first opened its doors in 1999 in a quiet downtown Zurich neighbourhood, it has become a city institution and inspired more than 20 similar restaurants around the world from Berlin to Montreal to Shanghai.
"This is special," says Adrian Schaffner, blindekuh's manager, bringing over a large guest book to help explain why the restaurant has proven such a hit. "People are looking for something special."
The restaurant does indeed deliver on that promise. People are guided to their seat by holding onto the shoulders of their blind or visually impaired waiter. There they are confronted with the challenge of eating without seeing, a humdrum task that suddenly requires a lot more concentration: that pesky piece of pasta may very well miss your mouth and end up in your lap. When a guest is ready for a smoke or washroom break, they must call their waiter to guide them back out.
For most people who don't have a blind friend or relative, dining in the dark is the closest they will come to experiencing what it is like to be stripped of sight.
As the dark removes a guest's ability to see, however, it enhances other senses. It's suddenly much easier to follow a conversation or focus on how the food actually tastes. As the blindekuh promises on its website, the restaurant allows it to showcase everything colourful from the world of the dark.
"This is a real experience, it's no fake," says Schaffner.
The restaurant, which took its name from the German "blind cow" children's game, was the inspiration of the blind pastor Jürg Spielmann and Stephan Zappa, a visually impaired psychologist. Working together with Andrea Blaser, a blind social worker, and Thomas Moser, a blind singer, they created the foundation Blind-Liecht in 1998. In 1999, they opened the doors to their restaurant in a former Methodist chapel in Zurich.
The aim was to give visually impaired and blind workers a job, while introducing the seeing to the land of darkness, narrowing the gap between the two groups. At first, there was some scepticism, according to Schaffner.
"People sometimes didn't give us a lot of credit," he says. "They thought this will last a half year and then it will close."
But the press came calling and the restaurant took off. Reports in Swiss papers were followed by the international press, including the Wall Street Journal. In 2005, blindekuh opened the doors to a second restaurant in Basel.
This restaurant is not about easy to eat finger food. The menu, which changes weekly, offers a choice of three appetizers, main courses and desserts. A recent menu featured a perch filet in a lemon-caper butter sauce with rice and artichokes, along with peppers filled with mashed potatoes in a mushroom cream sauce. Most diners choose to eat with cutlery instead of their hands, Schaffner says.
Copycats have sprung up around the world, most of which dined first at blindekuh, according to Schaffner. Some have kept the concept of blind or visually impaired serving staff, such as the Dans le Noir? chain of restaurants, which first opened in Paris and have since expanded to London, Moscow, Barcelona and New York. The same goes for the unsicht-Bar in Cologne, Berlin and Hamburg.
Others have decided to, ahem, cheat, and hire seeing waiters and equip them with night goggles to serve in the dark.
Of course, doing things the blindekuh way is not easy. This restaurant takes more effort and money than say the average Italian pizzeria.
It takes time, for example, before a blind waiter is comfortable manoeuvring around the room. (The table setup never changes.) As well, the restaurant always needs a person in front to prepare the guests for this new dining experience. The waiters, blind from birth or accidents, work part time and receive an above-average salary, according to blindekuh.
The restaurants don't do advertising – it's too expensive – but instead rely on repeat diners, word-of-mouth reviews, along with referrals from hotels. On weekends, the restaurant is often still booked out.
"It's a difficult business," Schaffner admits. But fortunately "blindekuh is really an institution. People really like it."
The two restaurants in Basel and Zurich generate more than 3-million francs ($3.3 million) in annual sales. They also receive donations from the public and businesses.
In a bid to generate more money, blindekuh two years ago opened a "sight-bar" in Basel, where guests can grab a few drinks in the light after dinner in the dark. There is also an event room for more than 200 guests, also in the light.
Along with serving food, the blindekuh also hosts cultural events. Upcoming acts include an alphorn band, and a salsa dancing night. The later event seems especially intriguing for the reserved Swiss, promising that the upbeat Latin tunes and veil of darkness will get their feet moving "all the more."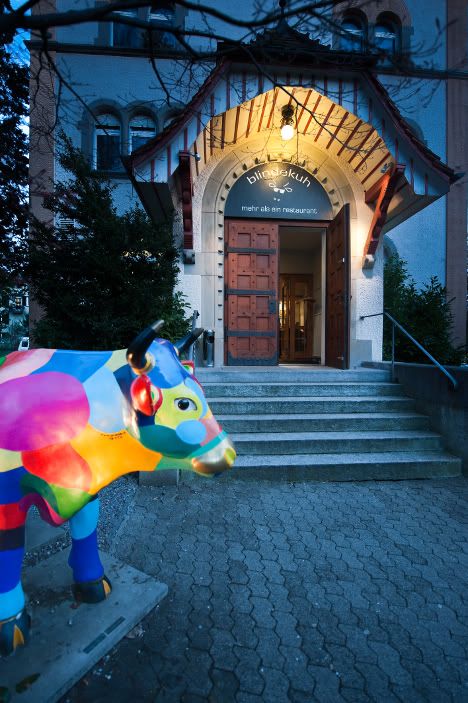 See Also