King of kitsch Jeff Koons brings 'empty' art to Basel
Dubbed the 'king of kitsch,' Jeff Koons is perhaps the world's most famous living artist – or to quote the Fondation Beyeler in Basel that has dedicated its summer exhibition to his work, "one of the most influential artists of all time."
Alive with playful sexual imagery and the clash between "high" and "low" art, the show offers a chance to explore the back catalogue of an American sculptor who has courted controversy throughout his career, writes Meritxell Mir.

When you look at a vacuum cleaner, you probably see a functional device that helps you keep your floors clean. Unless you are Jeff Koons. Then you see a seductive bisexual appliance that could inspire the most lustful of fantasies.
Sexuality has been present in the oeuvre of the American artist since the start of his career more than 30 years ago, and is clearly in evidence at Fondation Beyeler's exhibition that runs until September 2nd.
Like British artist and friend Damien Hirst, Koons embraces the role of the celebrity artist. His goal is to popularize art by making it accessible to all – despite the fact his works sell for several million dollars apiece.
The exhibition is divided chronologically into three series that represent crucial steps in the development of an artist who has caused a furore around the world.
In The New (1980-1987), Koons focused on unused Hoover vacuum cleaners, which are presented as precious objects of desire, lit from below in Plexiglas vitrines. Inspired by the readymades of Marcel Duchamp, this strange decontextualiztion lets the viewer in on Koons' perception of the devices as "breathing machines" with "biological shapes." The phallic handle, the holes and pipes, their sucking power – you'll never see a vacuum cleaner in quite the same way again.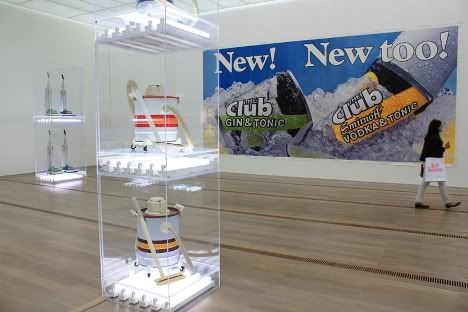 Photo: Meritxell Mir
Setting the tone for the rest of his career, the Pennsylvania-born artist's conceptual approach in The New relies on his audience's reading of the work to bring it to life.
"Those objects are empty, they are just transponders," Koons said during the presentation of the exhibition. "I put a lot of thought into them, and I think they do their job very well, but there is no art in them, the art is in the viewer."
Koons uses the factory-fresh gleam of these androgynous devices to hint at ideas of purity, integrity, and eternity – three recurring themes in his work. They are displayed to never be used, playing on notions of mortality.
The series also includes a large-format lithograph entitled New! New Too! (1983) inspired by an advertising poster for an alcoholic drink. Koons' fascination with the manipulative potential of images and his aspiration to make artworks accessible to everyone were already present in these early stages of his career.
"One of the greatest qualities of Koons' art is that he overcomes the division between high and low art, bringing together popular objects and artistic invention," explained Sam Keller, co-curator of the exhibition and director of the Fondation Beyeler.
The blurring of kitsch and sophisticated art took on a new dimension in his series Banality (1982-1992) – the work that propelled him to the heights of international celebrity (a status he appears to revel in). Employing traditional artisan techniques and materials such as fine porcelain that carry aristocratic associations, these oversized pastiches of tacky ornaments associated with the culturally unsophisticated were Koons' way of questioning the role of art in contemporary society. Pop art was back with some nineties flavour.
Koons based this group of works on concepts of innocence and guilt, making frequent references to Christian iconography, but with a twist – with Koons, there's always a twist. The legendary porcelain and gold life-size sculpture of Michael Jackson and his chimpanzee Bubbles is described by Koons as a "contemporary Pietà." It has achieved iconic status since its creation in 1988 and was sold for $5.1 million (4.76 million francs) in 2001.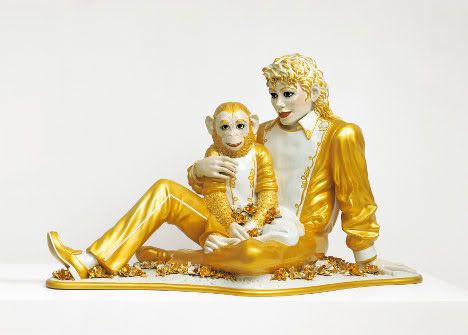 Photo: Jeff Koons
Other pieces like the delicate Naked (1988) address the problem of guilt and exoneration. In this porcelain sculpture, a prepubescent Adam and Eve stand nude, examining a bouquet of flowers. It is not clear whether the girl is looking at the flower's phallic pistil or at the boy's still undeveloped genitals, leaving the viewer to decide whether the work is a statement about purity, sexuality or both.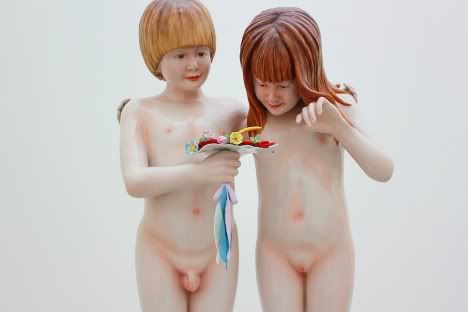 Photo: Meritxell Mir
In Pink Panther (1988), Koons focuses on the theme of "masturbation as a metaphor for cultural guilt and shame." He attempts to liberate viewers from such feelings by challenging them to stand up for their suppressed aesthetic preferences in front of an erotically charged sculpture of a woman and a (cartoon) animal.
Photo: Meritxell Mir
"Banality was trying to embrace the everyday, to direct itself to the concept of guilt and shame that we have about ourselves, as human beings," Koons said. "[These pieces] want to communicate to the viewer to overcome that, to have acceptance of themselves and their environment."
Koons' many fans will miss at the Beyeler his series 'Made in Heaven,' which he worked on during his marriage to Italian porn actress and politician Ilona Staller, better known as Cicciolina. These highly pornographic life-size sculptures and photos in which the artist himself is depicted are some of his most controversial pieces, although he maintains they are his most important body of work for their sincerity and radicalism. None of them are present at the art institution in Basel.
For those less familiar with Koons' work, entering the final room of the exhibition will confirm his unlimited capacity to surprise his audience. The series Celebration, still a work in progress, is an ambitious project consisting mainly of monumental sculptures crafted in chromium stainless steel.
The history of this series is closely tied to his personal life, especially the birth of his son Ludwig in 1992 and his divorce from Staller, who took their son to Italy despite Koons winning legal custody. The artist uses birthday and holiday motifs – Valentine hearts, flowers, Easter eggs – to celebrate childhood, transforming his artistic practice into a token of a father's love for his son.
The most famous of these is Balloon Dog (Red) (1995-2004). Almost four metres high and weighing several tons, Koons nonetheless manages to make the sculpture appear almost weightless.
"The first thing that it wants to do is affirming the viewer and the importance of its existence," Koons explained. As he has said before: all that matters in life and art is "human interaction."
Balloon Dog's highly polished stainless steel surface reflects its surroundings, once again challenging viewers to interact with the work as they confront their own reflection – a trick also used in Tulips (1995-1998), which plays with sexual imagery through forms that are both feminine and masculine.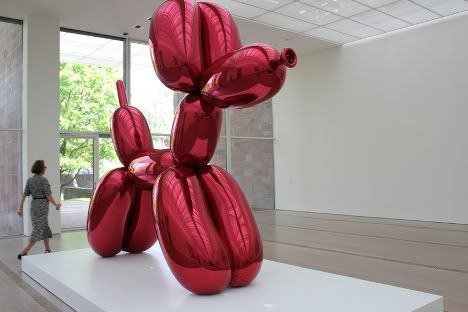 Photo: Meritxell Mir
Koons holds the record as the highest-paid living artist. Yet he claims that money and fame don't spur him to create.
"The emotional charges, the chemical releases... that's what it's all about," he said at the Beyeler. And, if you accept the invitation to let his works play off your own perceptions, this exhibition is never short of such thrills. You will laugh or you will get the creeps, but it won't leave you cold.
See Also