Dating from the 17th century, this is one of the most famous and impressive Easter events in Switzerland. In two processions on Maundy Thursday and Good Friday hundreds of participants re-enact the passion and crucifixion of Christ as they walk through streets decorated with traditional paper lanterns.
The costumes date from 1898 and are so valuable that if it rains, the whole thing is called off. Thankfully the weather's looking good this year.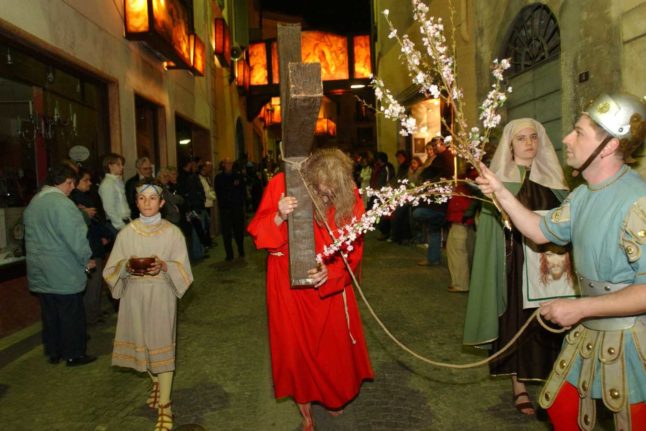 Participants perform the historical Maundy Thursday Procession (or "Ceremony of the Judeans", as it is known locally) in Mendrisio Photo: RETO ALBERTALLI / AFP
Nyon: Decorated fountains, 
Every year in Nyon on Lake Geneva there's a competition to decorate the town's fountains. Members of the local community including schoolchildren, local businesses, clubs and societies rise to the challenge. Members of the public can then tour the fountains for the chance to win a prize. 
"It's lovely to see the brightly decorated fountains at this time of year – they are a fun Easter tradition," says local Catherine Nelson-Pollard, who runs the
Living in Nyon
 (FR) website.
"They are on a route that takes you past the old town, the Roman museum, the Maiître Jacques statue, the castle etc, so if you are a visitor to the town you can see the key Nyon landmarks at the same time".
Fountain decoration created by the International Women's Club of Nyon. Photo: Catherine Nelson-Pollard/Living in Nyon
The village of  Romont in the canton of Fribourg stages a haunting procession on Good Friday. Commemorating the crucifixion of Jesus, 20 'pleureuses' (weeping women) wearing black veils walk slowly through the town.
On red cushions  they carry symbols of the crucifixion – a crown of thorns, nails, hammer, birch sticks and a whip.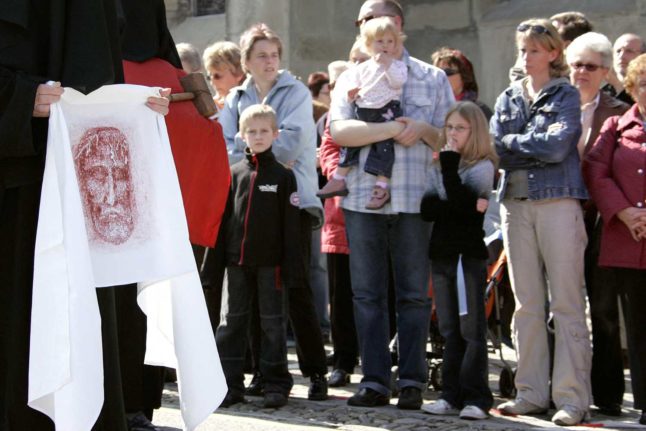 Mourners dressed in black carry a portrait of Jesus Christ during the traditional 'weeping women' Good Friday celebration 06 April 2007 in Romont. Photo: FABRICE COFFRINI / AFP
The Eiertütschen (egg smash) is a fun Easter tradition across Switzerland where people attempt to crack each other's boiled eggs (without breaking their own) before eating them. It's usually done at home, but the Swiss capital likes to go public by organizing a big egg smashing competition on Easter Sunday. Gather at 10am at the Kornhausplatz and bring your own eggs.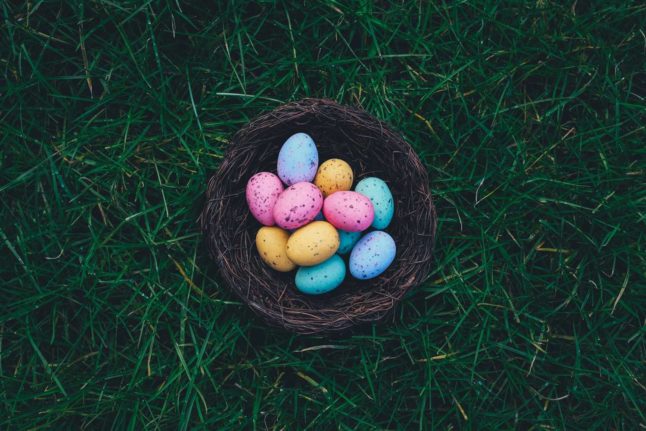 Breaking other people's eggs is apparently a great way to spend Easter in Switzerland. Photo by Annie Spratt on Unsplash
Zurich has its own variation of the Eiertütschen, the Zwänzgerle. On Easter Monday children and adults gather at Rüdenplatz armed with boiled eggs. Each child holds up an egg and an adult stands opposite and throws a 20 cent coin at the egg.
If the coin cracks the shell and sticks in the egg, the adult claims the egg. If it doesn't, the child claims the coin. Sound like the kids are likely to come away a little bit richer…