Presented by Hyppo.CH
Eight reasons why buying a Swiss home is easier than you think
With its breathtaking Alpine views, fine chocolate, and high GDP per capita, life for expats in Switzerland must be good, right? Well, up to a point.
It certainly attracts plenty of new arrivals with around a quarter of the working-age population being foreign nationals. But expats are often shocked by the cost of living. You won't find many of them living in a Swiss castle. 
But is buying any property just too expensive or complex to contemplate? The Local has partnered with Hyppo.CH, which offers full mortgage assessments and advisory reports in English, to present eight reasons why buying a home in Switzerland could be easier than you think. 
1. Negative interest rates
"When they go low, we go high," is Michelle Obama's catchphrase. The Swiss National Bank could go with "When they go low, we go lower."
We're talking about interest rates, of course, not moral standards. Many developed countries have had historically low interest rates since the 2008 financial crisis. 
But Switzerland still stands out: it has had negative rates for more than five years and the current rate is minus 0.75 percent. As a result, ten-year fixed rate mortgage deals start at under one per cent – and even lower for five-year fixed deals.
Find out what you can afford and get a personal report in English from Hyppo.CH
2. Long-term loans
In some countries, a mortgage is considered a millstone and a loan lasting 25 or 30 years can seem like forever. But in Switzerland, it's common for mortgages to last 50 to 100 years. 
Yes, your mortgage could easily outlive you. Spreading the costs over such a period helps keep monthly repayments lower. You might even pass the mortgage on to your kids, which is not unusual for the Swiss. 
3. Dividing up your deposit
To buy, you'll probably need to pay a deposit of at least 20 percent of the property's market value. That's much lower than in neighbouring Germany but still a hefty sum.
Bear in mind, however, that in Switzerland, only 10 percent must be put down in cash and the rest can be made through your company or personal pension fund. Expats who have been in the country long enough to start building up a pension may qualify. 
When considering this option, you should carefully consider your circumstances and taking advice from a professional financial adviser is recommended – failing to keep up mortgage repayments could put your pension and your home at risk.
But it's an important part of the Swiss way and your hosts are hardly renowned for being reckless with money, are they?
Think owning your own home is a distant dream? Find out now if you can afford more than you think
4. A country life (with quick commuter links)
So, it's not only the castle overlooking the lake you can't afford. Perhaps you've found a flashy city apartment might also prove out of reach.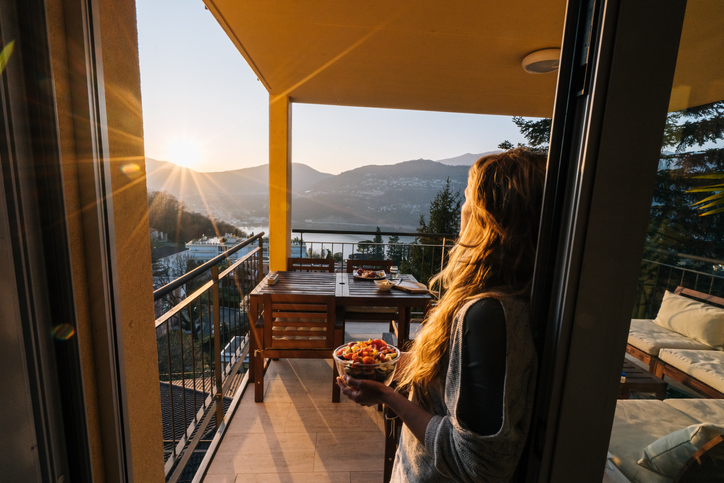 Photo: Getty
How about a picturesque place in the countryside with some real Alpine air? The historic town of Olten, for example, is a rail hub, lying within 30 minutes of Zurich, Bern, Basel and Lucerne.
Commuters travelling into Zurich from all directions use S-bahn trains and a public transport network that's the envy of many bigger world cities. Fares may not be cheap but a monthly or annual pass can also be used on trams, buses and ferry services. 
5. Get an expat assessment in English
Getting a Swiss mortgage can be a little more complicated for expats. In most cases, you'll need a B residence permit – which lasts for up to five years – or a C settlement permit.
Even if you have your permit and are looking to stay long-term, you might be put off by the thought of trying to understand the system in a language you haven't fully mastered.
With Hyppo.CH, you can do your mortgage assessment and get an advisory report in English – all with no commitment. Your personal report will save you time by setting out: 
Exactly what you can afford
Your options based on your residency status
Any hidden costs
Whether you qualify to buy
Easy-to-follow visual guides 
6. Tax deductible mortgage interest
Homeowners in Switzerland must pay income tax on their property's rental value – the money they would receive if they rented it out. It may sound strange to expats but the idea is that homeowners have certain advantages over tenants, so the tax is intended to make things fairer. 
But it's vital to know that mortgage interest payments are fully tax deductible, while other upkeep costs are partly deductible. This makes buying with a mortgage more affordable – along with the fact you're no longer paying monthly rent.
Tired of your monthly outgoings on rent? Find out now if you qualify to buy
7. Stamp duty may not apply 
As with many things in Switzerland, the cantonal system leads to a complex patchwork picture on property purchase taxes. While most cantons do charge stamp duty, there are six that don't but instead charge change of ownership and registration fees: Aargau, Glarus, Schaffhausen, Uri, Zug and Zurich.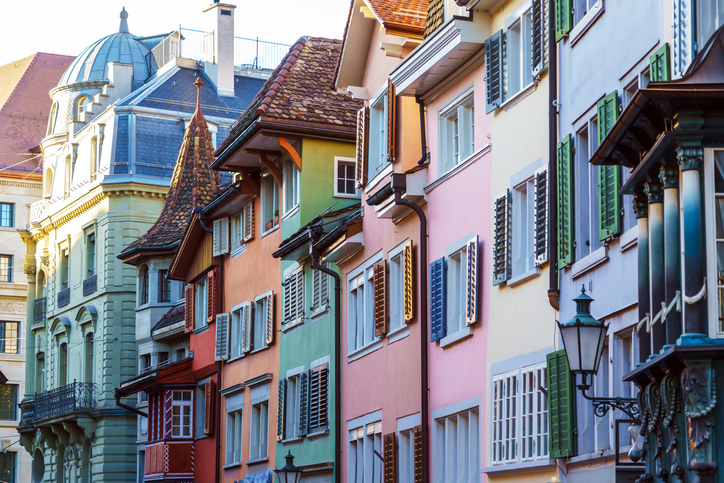 Colourful homes in Zurich. Photo credit: Getty 
In the canton of Schwyz, there is no property transfer tax at all. Where you do have to pay stamp duty, the amount also varies by region: it's negligible in some places but 3 percent in Geneva. 
In short, buying in certain regions offers significant tax savings. It would be wise to get professional advice, such as that offered by Hyppo.CH's personal reports.
8. Lucky 13 
Are you one of the Swiss workers for whom there are 13 months in the year – or rather 13 pay checks? Sounds like something to yodel about – especially if you're hunting for a new home. 
Applying for a mortgage based on your annual salary rather than what you receive in a normal month could help to bring the home you want within your price bracket.
Interested in buying in Switzerland but unsure where to start? With historically low interest rates and the quirks of the system, you may be able to afford more than you think. Get a full assessment and personal report from Hyppo.CH – in English and with no commitment.
This content was paid for by an advertiser and produced by The Local's Creative Studio.
See Also