NOTE: Switzerland has changed its lockdown rules. More information is available here. 
On December 18th, Switzerland put in place an extensive range of new measures.
While the government decided not to make these stricter in a meeting on December 30th, on January 6th the federal government started a consultation process with the cantons about possibly putting new measures in place. 
READ: Why is Switzerland set to extend coronavirus measures? 
At the same meeting, Switzerland indicated it would extend the current measures until at least the end of February – while also scrapping the rule that cantons with a low R-Rate would be permitted to relax certain measures. 
These are detailed below. 
How many people may I meet with?
The Swiss government adopted a relatively confusing distinction between 'meetings' (in private) and 'gatherings' (in public) – and these distinctions are important to understand just how many people you are allowed to meet with. 
Meetings in private are limited to ten people. 
Gatherings – which take place in public – are limited to 15 people. 
Cultural and sporting events can have a maximum of five people – although this does not apply to people under 16. 
Unlike many of Switzerland's neighbours, there is no maximum number of households – although there is a recommendation that each group contains people from no more than two households. 
What about bars, cafes and restaurants?
Bars, cafes and restaurants across Switzerland must close, as must nightclubs and discos. 
READ MORE: UPDATE: Switzerland to close all restaurants amid new move to stem Covid-19 surge 
Delivery and take-out services will remain possible.
Company and school canteens, as well as hotel restaurants, will also be able to continue their activities.
I'm a cultural type – is there something for me?
No. Cultural institutions are closed and will stay closed until the end of February. 
This includes museums and galleries, along with theatres and all poetry slam events.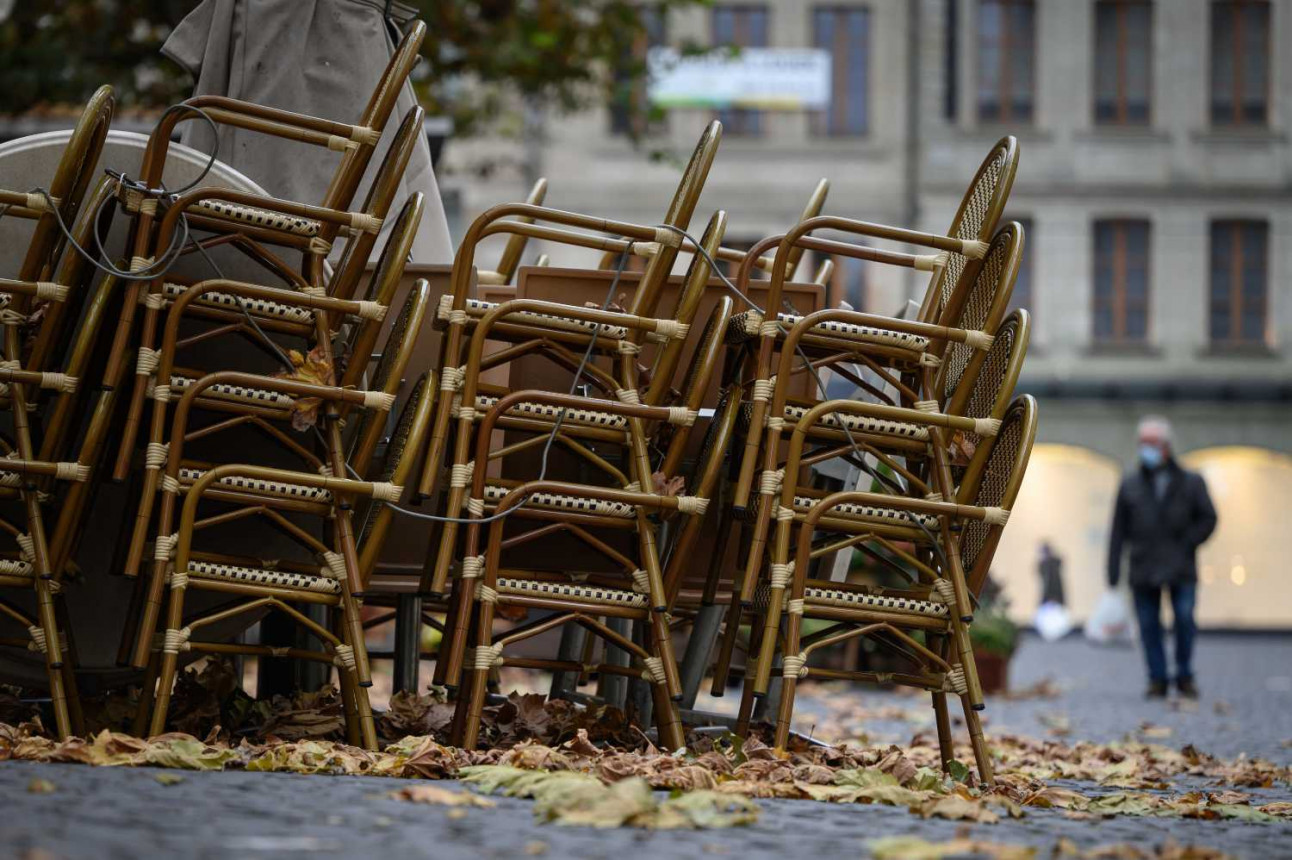 Things are set to stay closed for a little longer. Photo: FABRICE COFFRINI / AFP
What about shops?
Shops can stay open but their capacities will be limited and the number of customers allowed inside at the same time will depend on the size of the business.
"Restrictions on opening hours continue to apply: shops must remain closed between 7pm and 6am, and on Sundays and public holidays", the government said when the announcement was made in mid-December. 
These decisions were taken because "the epidemiological situation is a cause of great concern," the government said in a statement.
"The number of infections is very high and is continuing to rise. Hospitals and healthcare workers have been under extreme pressure for weeks and the festive period increases the risk of an even more rapid rise in cases," it explained.
Do I have to work from home? 
Currently, working from home is only a strong recommendation and not a requirement. There are suggestions however that this may change on January 13th. 
Are there still exceptions for states with lower infection rates? 
In December, Health Minister Alain Berset said that restaurants in cantons where the R-rate is below 1 can remain open. 
This was changed from January 9th – now the rules apply regardless of the infection rates in each canton. 
So I assume skiing is out of the question then?
No, skiing is fine. Skiing will still be allowed under the strict conditions which are currently in place.
They include wearing face masks not only in enclosed spaces such as mountain trains and cable cars, but also on open-air chair lifts and T-bars, as well as in queues.
In addition, queuing will be regulated so it runs in an orderly manner and without major clusters.
The number of passengers in closed ski cabins will be lowered to two thirds of the usual capacity.
And cantons must ensure that they have sufficient hospital capacity and the ability to undertake testing and contact tracing. Where hospital capacity is insufficient, ski slopes must close. 
OK, OK, but will it get any stricter? 
Yes, it's possible. Switzerland is considering a range of stricter coronavirus measures.
These are to be decided on by the cantons and the federal government on January 13th. 
Some of the details are vague at this stage, but a working from home obligation and the closure of schools is on the table. 
More information is available at the following link. 
READ: What stricter coronavirus measures is the Swiss government considering? 
Note: This information is correct as at January 4th, 2021. Please keep in mind that this article, as with all of our guides, are to provide assistance only. They are not intended to take the place of official legal advice. More specific information can be found from the Swiss government at the following link.