REMINDER: What are the rules for Britons entering Switzerland?
UK nationals are largely restricted from entering Switzerland, with a few exceptions. Here are the rules.
Flights between the UK and Switzerland were grounded on midnight on Sunday, December 20th, due to a new coronavirus strain which has been detected. 
From December 21st, the Swiss government put in place an entry ban on people entering from the United Kingdom and South Africa due to the new strains. 
While as at January 12th flights between the countries are "limited", entry to Switzerland from the UK is restricted to Swiss citizens or people who hold Swiss residence permits. 
Entry is also restricted for transit passengers. The UK government's website reads: "Travellers arriving from the UK are currently unable to transit Geneva Airport to enter France, unless you hold a residence or cross-border permit for Switzerland". 
Switzerland considers Britain as a 'high risk' country, meaning all arrivals are subject to a mandatory quarantine. 
On January 12th, Switzerland added Ireland to its mandatory quarantine list.
The full list can be seen at the following link. 
READ MORE: Which countries are currently on Switzerland's quarantine list?
What are Switzerland's quarantine rules? 
Britons with an exemption to enter Switzerland will be required to quarantine. 
Anyone required to quarantine must do so for a ten-day period. 
The Swiss government recommends you keep 1.5 metres distance from people, wear a mask and avoid public transport. 
Information on mask rules can be found here. 
When arriving in Switzerland, you are required to contact the cantonal health authorities within two days. This can be done at the following link. 
Even if you have evidence of a negative test, you will still be required to quarantine for ten days. 
For ten days after your arrival in Switzerland you must stay in your home or other suitable accommodation without going out.
You are required to avoid contact with other people. 
You may leave quarantine after ten days only if you do not have symptoms. 
The Swiss government has put together detailed quarantine guidance in English which can be found here. 
Anyone who fails to quarantine for a ten-day period will be subject of a fine of up to 10,000 Swiss francs (£8,259). 
More information is available in English here.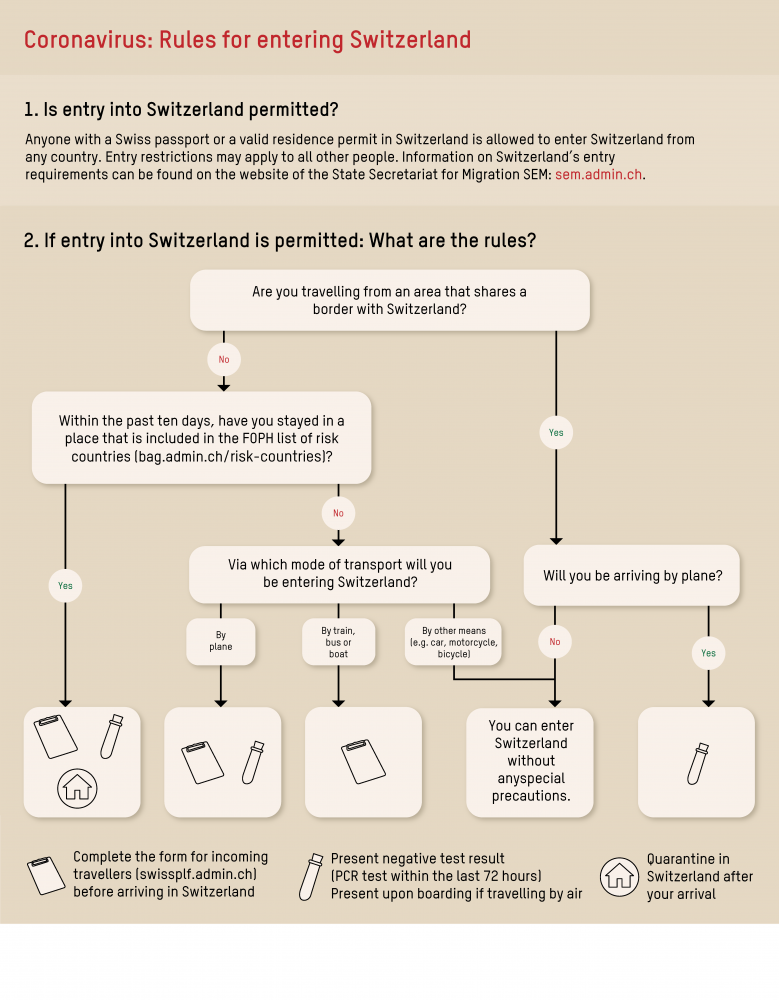 See Also