'Everyday goods': Which shops can stay open under Switzerland's tighter lockdown rules?
Switzerland tightened coronavirus rules from January 18th, including closing non-essential shops. But which types of shops were actually forced to close?
Switzerland is to impose new restrictions aimed at "drastically" reducing contact between people, due to fears of a rapid upsurge in Covid-19 cases due to new variants of the virus.
The Swiss government had been expected simply to extend the current closure of bars and restaurants until the end of February.
EXPLAINED: What are the details of Switzerland's new coronavirus restrictions? 
But on Wednesday the government went much further, imposing mandatory working from home and closing shops other than those selling basic provisions.
Closure of all non-essential shops
The rules also include the closure of all non-essential shops - defined as "shops that do not sell everyday goods/goods for daily needs". 
This means all the retailers, with the exception of pharmacies and shops selling necessities such as food, will have to close. 
'An absurd situation': Swiss retailers left baffled by shop closing rules
The measures would be similar to the partial shutdown that was in force during the first wave of the pandemic last spring.
It will be possible to visit a shop's premises to collect goods that have been ordered. 
There will however be a change to the current rule which requires that shops, petrol stations and kiosks must close after 7pm and on Sundays.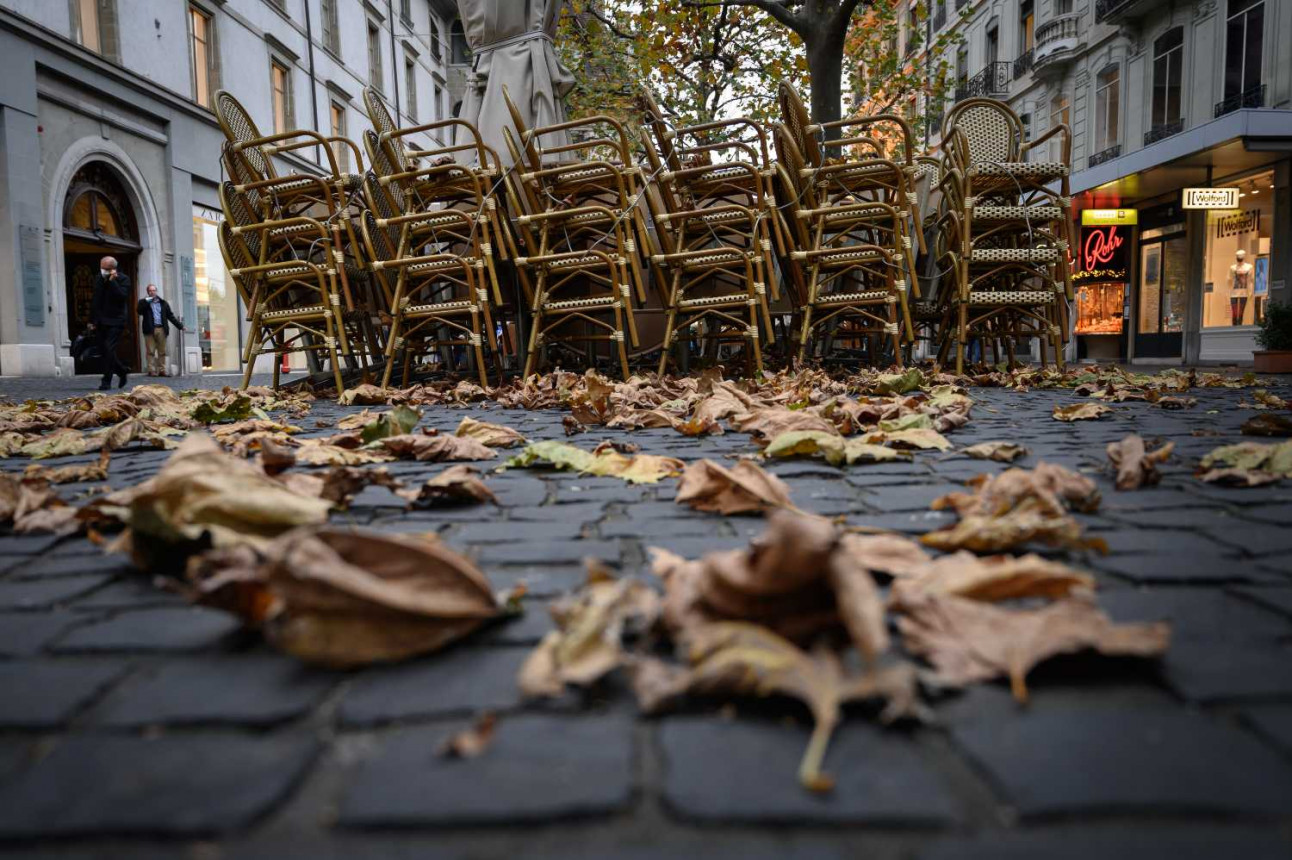 'Dead leaves and the dirty ground when I know you're not around'. Photo: FABRICE COFFRINI / AFP
What are 'everyday goods'?
One person's 'everyday goods' and 'daily needs' are likely to be different from another, which can make the new rule difficult to understand. 
In order to avoid confusion - or perhaps to add to it - the government has given a list of the types of goods which are considered to be everyday goods or daily needs. 
These include: food, cooking and eating utensils including cutlery, pharmacy items and cosmetics, cleaning and care products, house plants and flowers, garden items, underwear, clothing for babies, tools and building materials, pet food and animal goods, spare electronic parts like batteries, and newspapers and magazines. 
Which shops can remain open?
In short, shops that sell the above stuff can remain open. 
Although it is not an exhaustive list, the following types of shops can remain open during the pandemic. 
They include: grocery stores, indoor and outdoor markets, post offices, pharmacies, banks, kiosks, bakeries, petrol stations, take away food/food delivery services, pet and baby food (presumably from different stores), florists and gardening stores, hardware and construction stores, photo shops, locksmiths, laundries and sewing shops
Others can remain open but only for pick up (i.e. no browsing). This includes furniture stores, clothes stores, electronics shops
Hairdressers, physiotherapy, tattoo, piercing and massage services may also remain open, along with cosmetic stores such as nail salons. 
Shoemakers may remain open provided they offer repair services. If not, they can only offer goods for pick up. 
Mechanics can also open, provided they offer repairs, while car rental services can also open. 
Travel agencies are also allowed to open.
What about shops that sell everything?
This is where things get a little tricky. With some specialist shops forced to close, this can be seen as an advantage for larger shops which sell everything - i.e. a supermarket which sells electronics.
Therefore, shops that are allowed to open must limit their range to the products listed above. 
Supermarkets will no longer be allowed to sell clothing, for instance, nor will they be allowed to sell electronic items like kettles and iPads. 
What about closing times? 
Switzerland reversed its decision on closing times.
There will be a change to the current rule which requires that shops, petrol stations and kiosks must close after 7pm and on Sundays. 
Therefore evening and Sunday shopping will again be allowed. 
See Also