Covid-19: How the pandemic has triggered a boom in home working jobs in Switzerland
The number of vacancies with the option of working from home has almost quadrupled in Switzerland since the beginning of the health crisis. What jobs are most in demand?
The working from home trend was accelerated during the first wave of the coronavirus outbreak in 2020, when Swiss authorities recommended that people leave their residences as rarely as possible.
Only employees deemed to be 'essential' to the public health or the country's economy were required to be physically present at work. 
More recently, on January 18th, the Federal Council made working from home compulsory whenever possible. 
This rule was introduced in an effort to curb the spread of Covid contaminations, especially the more contagious mutated strains of the disease.
READ MORE: EXPLAINED: What are the rules of Switzerland's new working from home obligation? 
These measures are now reflected in a wider availability of home work options throughout the country and across various industries.
The number of job postings mentioning the possibility of working from home increased by 190 percent between March 2019 and December 2020, according to a new study carried out by an online recruitment platform JobCloud. 
This chart shows the growth in the home work positions in both Swiss German (blue) and Swiss French (red) cantons.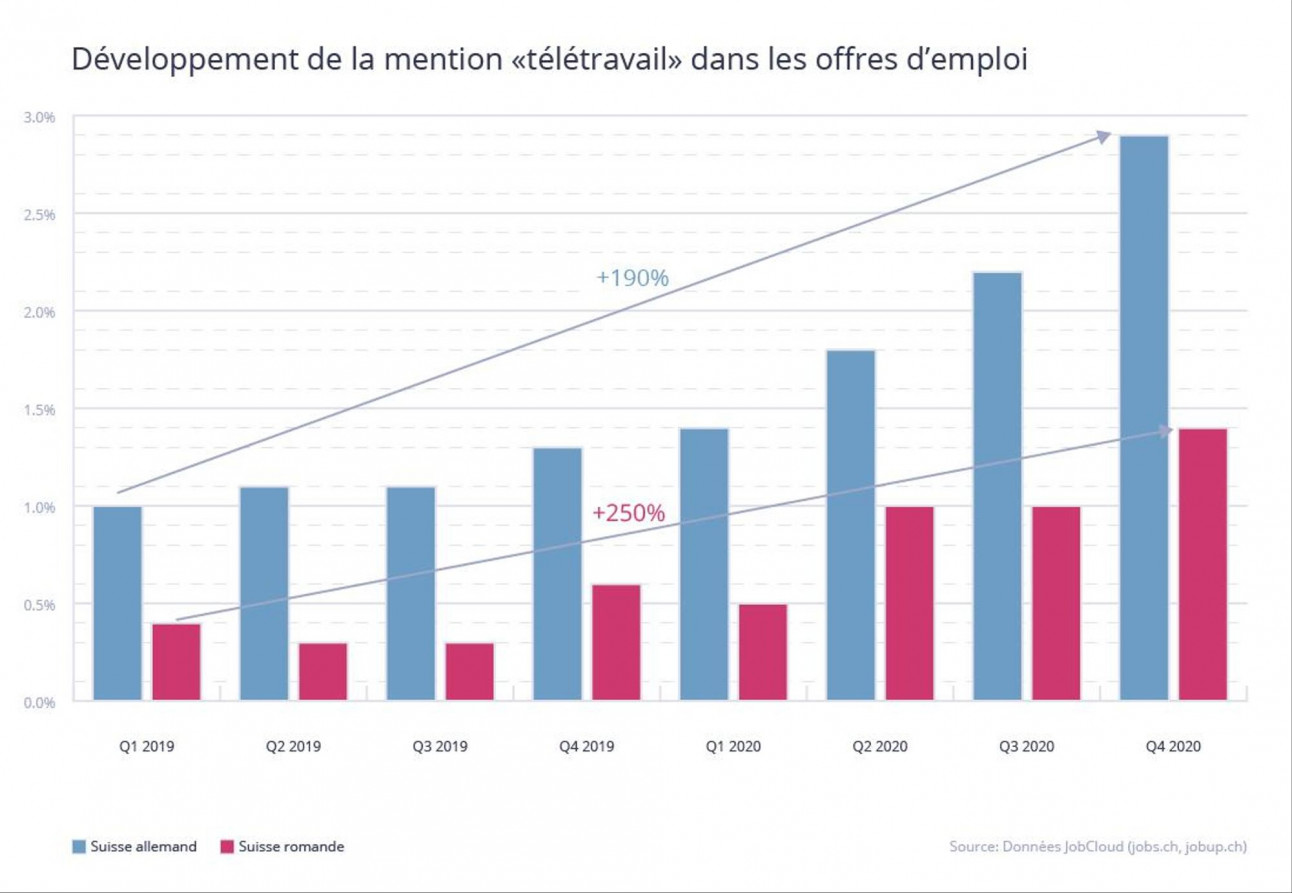 JobCloud
These figures are based on adverts listed on jobs.ch and jobup.ch, the most popular recruitment sites in French-speaking and Swiss-German regions, respectively.
"The coronavirus crisis has largely contributed to the popularisation" of this mode of working, Davide Villa, JobCloud's CEO said in a press release.
Not surprisingly, teleworking is mainly offered in industries where activities can be easily accomplished at home. However, these sectors vary depending on the linguistic region.
In the Swiss-German part, most adverts are in IT, media, finance and commerce.
In French-speaking Switzerland, associations offer most at-home positions, followed by education, IT, and insurance sectors.
Villa said that the pandemic even opened up new home work opportunities in sectors that usually require on-site presence, such as consulting, medical technology, and banking services.
An important factor in search for at-home employment is the length of the commute, the study reported.
About 65 percent of job seekers in German-speaking Switzerland and 70 percent in the French-speaking region would be willing to travel longer and farther to their jobs if they were granted more flexibility in working from home in return, the survey found.
See Also