Jobs in Switzerland: Which sectors have been hit hardest by the coronavirus pandemic?
The health crisis has impacted Switzerland's job market, with the number of unemployed people rising across the country. Some 48,000 more people than in the same month last year are looking for work.
Some 48,000 more people than in the same month last year are looking for work.
At the end of January 2021, 169,753 people were registered as unemployed with the regional employment offices — 6,208 more than the previous month, according to figures from the State Secretariat for Economic Affairs (SECO). 
The unemployment rate increased from 3.5 percent in December 2020 to 3.7 percent currently. In all, 48,735 people more are jobless, compared to the same period in 2020 —that is a difference of 40.3 percent.
SECO data also shows that:
Among the most impacted sectors are retail and commerce (23,039 unemployed) and hotels and restaurants (18,837).
With the unemployment rate of 3.89 percent, French-speaking Switzerland is more impacted by joblessness than Swiss-German cantons (3.2 percent). The most affected canton is Jura, where unemployment rate is 5.7 percent, followed by Geneva (5.6 percent), Neuchâtel (5.1 percent) and Vaud, (5 percent).
Of the German-speaking cantons, Basel-City has the most unemployed people (4.4 percent), followed by Schaffhausen (4.3 percent) and Aargau (4 percent).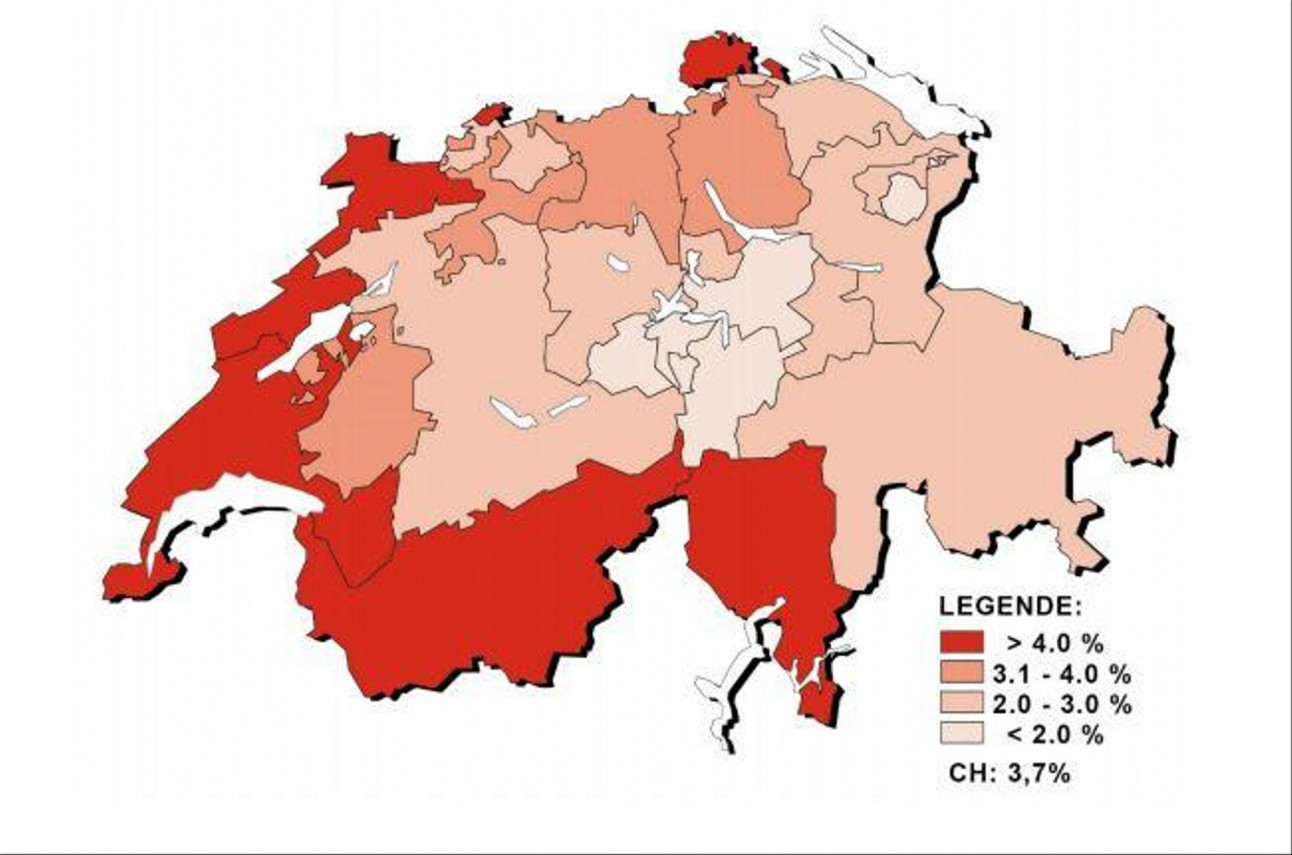 The red areas are the ones most impacted by unemployment. Map by SECO
There are more unemployed among the foreign population (6.7 percent) than among the Swiss (2.5 percent). Of foreign nationals, the highest number of people without jobs come from Eastern Europe: Bulgaria (16.3 percent), Romania (12.1 percent), Poland (10.2 percent), and Hungary (9 percent)
READ MORE: Jobs in Switzerland: Foreigners 'less likely to be hired than Swiss nationals' 
A study published in December 2020, shows that thousands of cross-border workers from France have also been affected by unemployment since the start of the pandemic nearly a year ago. 
About 13 percent of workers from France have lost their Swiss jobs, mostly in the hotel, restaurant, and construction industry.
See Also