A new study by the Swiss Health Observatory has shown which parts of Switzerland consume the most illicit substances – from alcohol to cannabis – while also giving a snapshot as to where residents need to tighten their belts. 
While the actual tipple might differ – aperitivo in Ticino, wine in Romandy and beer pretty much everywhere else – the Swiss do love a drink. 
Just over one in ten (10.9 percent) consume alcohol at least once per day in Switzerland – just half of the 20.4 percent who drank daily in 1992. 
While men drink more than women all across the country, the amount consumed per capita varies widely depending on the canton in question. 
The same goes for cannabis. While not legal in Switzerland, it is still widely used. In fact, a poll by the World Health Organisation showed that more teenagers smoked in Switzerland than in any other European country, with 27 percent of 15 year olds having smoked at least once.
Where do the biggest victims of cheese and chocolate live? 
The study also broke down Switzerland's obesity problem to see which cantons were the chubbiest. 
While the alcohol and cannabis figures showed a wide variation, it was not the case in relation to obesity – with the cantonal averages broadly reflective of the national averages. 
An average of 41.9 percent of adults are overweight in Switzerland – up from 30.4 percent in 1992. Men (51 percent) are significantly more likely to be obese than women (33 percent). 
Aargau is the most obese canton, with 45.8 percent of the population overweight. Jura (45.3) and Thurgau (44.7) follow closely behind. 
Zurich might be the most populous canton, but it's the lightest – with only 38.6 percent of the population overweight. Obwalden, Vaud, Geneva, Grisons, Uri and Ticino are all below the national average. 
Foreigners tend to be a little heavier than Swiss locals, with 46.7 percent overweight compared to 40.4 of Swiss.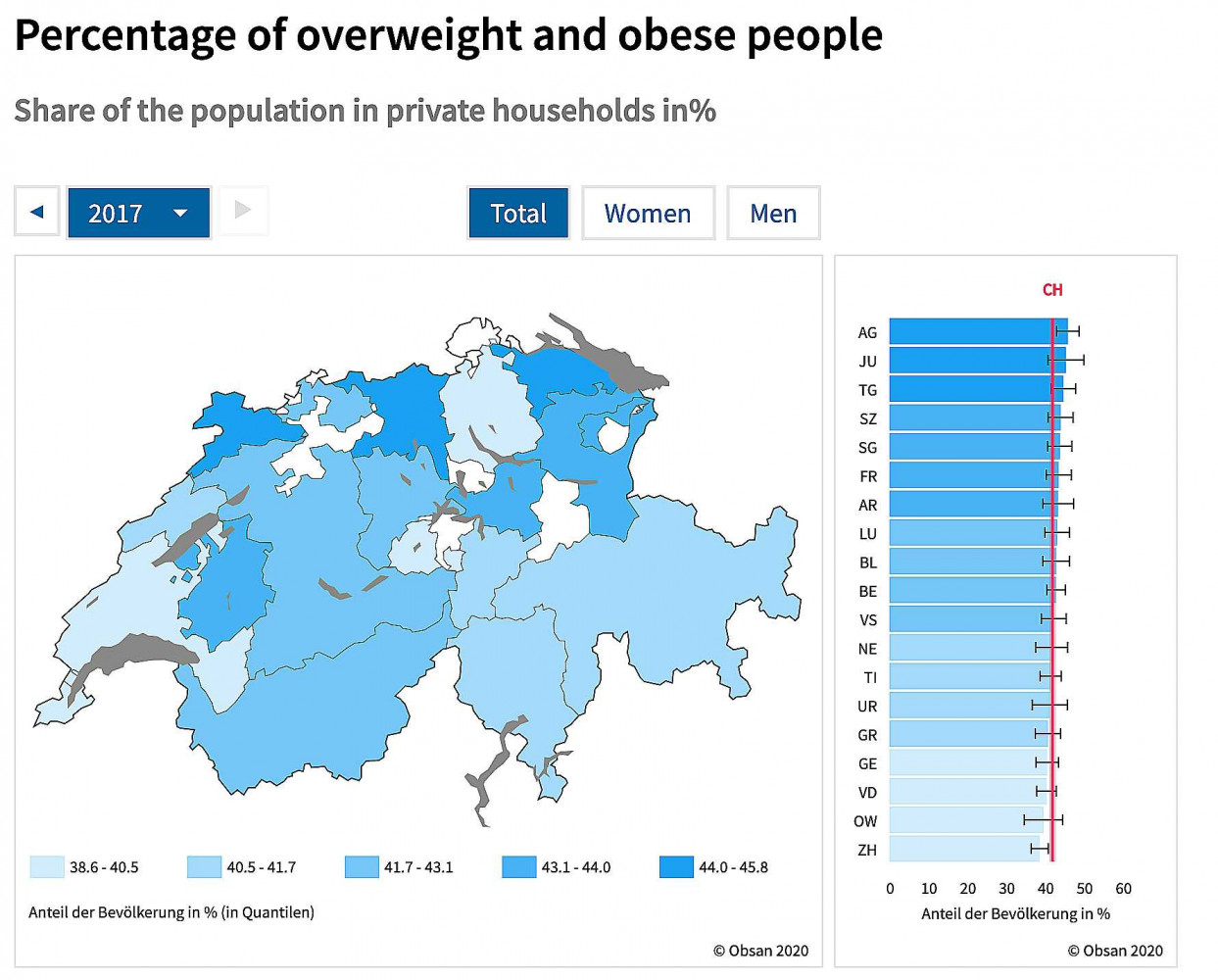 Image: Swiss Health Observatory
Note: This information was published in June 2020 by the Swiss Health Observatory based on figures collected from 2017.