Vaud in favour of re-opening restaurants from March 15th
Authorities in Vaud want the restaurants to open at noon from March 15th for lunch service and close at 6 pm, at which time only take-away service would be allowed.
This is contrary to decisions made by the Federal Council on Wednesday, which ordered restaurants to be closed until April 1st at the earliest.
READ MORE: EXPLAINED: What are Switzerland's new 'relaxed' coronavirus measures? 
Vaud authorities said the Federal Council has not taken into account that the vaccination programme is protecting "almost all vulnerable people", which should allow the limited re-opening of restaurants from March 15th.
The Federal Council will consult with the cantons regarding its new measures on February 24th.
March will be a good time for discounted purchases 
When all shops re-open on March 1st, Swiss consumers will be able to find many items for bargain prices.
Although some retailers have sold their goods online, many are sitting on seasonal merchandise they were not able to sell during the shutdown. They will now slash their prices "to have money in the till and be able to pay their bills", as reported in Blick. 
Sports shops in particular will offer winter items at bargain prices, as will furniture stores, some of which already advertise discounts of up to 70 percent on their stocks.
Rumantsch: in ferm toc Svizra
In case you're wondering, this means 'Romansh: a strong piece of Switzerland'.
This is the motto of the Federal Department of Foreign Affairs (FDFA), as Switzerland will celebrate a week dedicated to the fourth national language starting on February 20th.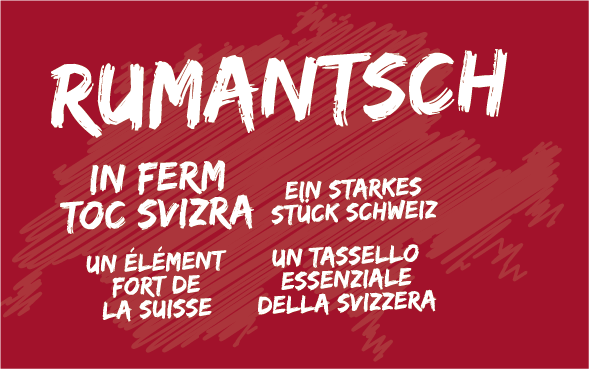 FDFA
This is commemoration of February 20th, 1938, when Romansh was granted the status of an official language by referendum, on equal footing with German, French and Italian. From 2022 onwards, the Romansh week will be a fixed point in the calendar in February.
Only about 60,000 people, mostly in canton Graubünden, still speak Romansh. 
 
Spring weather is here, at long last
After weeks of bitter cold, with temperatures dipping below -10 degrees Celsiuis in some parts of the country, heavy snowfall and a number of deadly avalanches in the mountains, a warmer, milder weather is expected in the coming days.
Temperatures could reach 17 degrees or higher in the plains as well as high altitudes, meteorologists predict.
The zero degree limit will initially rise to around 3,000 metres on Saturday and to 3,500 metres on Sunday.
This warming may affect the families who are going to ski at lower altitudes during the February holidays.