Switzerland is considering selling its AstraZeneca vaccines
The AstraZeneca vaccine is no longer included in the delivery schedule, and the government wants to sell the 5.3 million doses it had already paid for, according to an article in NZZ am Sonntag.
NZZ claims the decision was made because "AstraZeneca's vaccine has a bad reputation".
"In the current situation, Switzerland is not dependent on the the vaccines from AstraZeneca", said Nora Kronig, deputy director of the Federal Office of Public Health.
At the beginning of February, the regulatory agency Swissmedic said  that "the data currently available do not point to a positive decision regarding benefits and risks" of this vaccine. 
Vaccines from four other manufacturers have been approved for use in Switzerland. They are Pfizer/BioNtech, Moderna, Curevac , and Novavax. 
Health Ministry is delaying the approval of a rapid Covid-19 test
The neighbouring countries rely on easy-to-use and inexpensive saliva self-tests to detect the presence of coronavirus. The results of the so-called PCL test are available after just 10 minutes.
However, the federal government hasn't yet authorised this test in Switzerland, claiming that saliva tests that are not examined in a laboratory are unreliable.
Business associations are now applying pressure on the government to authorise the test soonest possible
"If a rapid test works and is cheap and usable by everyone, then there is no reason to wait months for approval", said Hans-Ulrich Bigler , director of Swiss Trade Association.

READ MORE: EXPLAINED: How does Switzerland's mass testing scheme work? 
Cantons want to re-open restaurants in March
Although the Federal Council ordered restaurants to remain closed until April 1st at the earliest, several cantons have said they'd like their restaurants to resume business earlier.
Last week authorities in Vaud announced their wish to reopen their gastronomy sector from March 15th for lunch service and close at 6 pm, at which time only take-away service would be allowed.
Now more cantons are joining Vaud in their desire to re-open sometime in March, such as Geneva, Graubünden, St. Gallen, Appenzell Ausserrhoden, Nidwalden and Obwalden. 
The Federal Council is scheduled to discuss the issue with cantonal governments on February 24th, but Health Minister Alain Berset already said that early re-openings would not be a good idea. He recalled that last fall restaurants were open in some cantons while closed in others, resulting in people traveling from one canton to another for the purpose of dining out.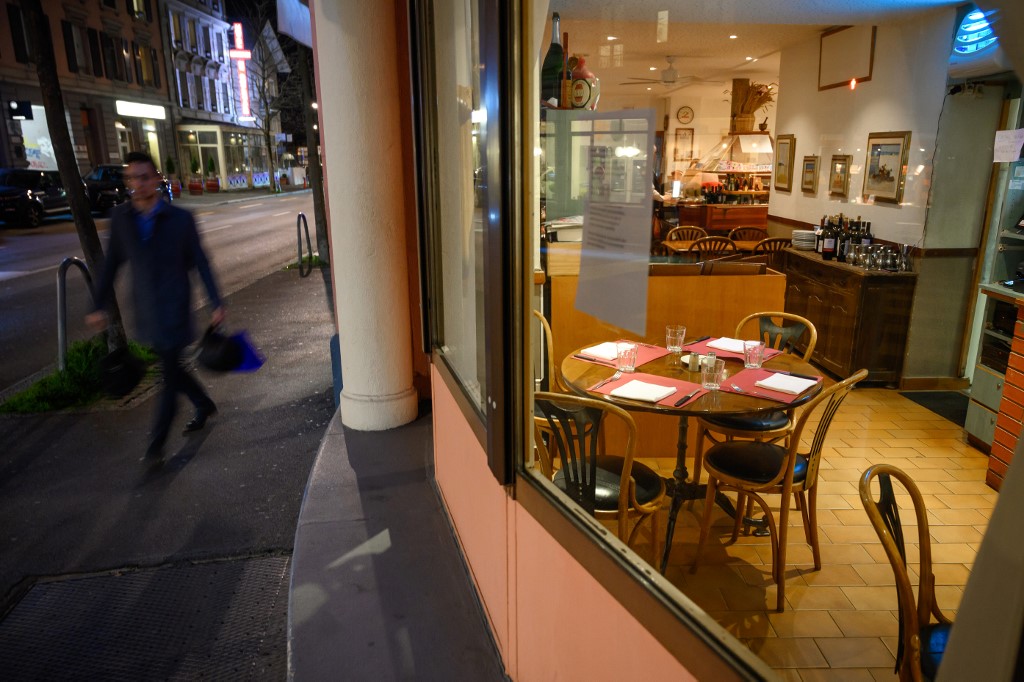 Many cantons want to re-open their restaurants in March. Photo by AFP
Threats against the Federal Council will be prosecuted
Hate messages and threats against members of the Federal Council are on the rise on social media, prompting the Public Prosecutor's Office to open criminal proceedings against five individuals. 
Under Swiss law, such verbal attacks are seen as an 'attack on honor or defamation' and are liable to criminal prosecution.
The threats are driven by prolonged shutdown measures and slow re-opening of the economy.
Health Minister Alain Berset has been the target of most threats, with one photo montage on social media showing a pistol pointed at his head.
In some cases, the Federal Office of Police (Fedpol) sends a letter or goes to the homes of the perpetrators to remind them of the law and the risks involved.
Five criminal procedures are currently underway.