EXPLAINED: What you should do if you have a car accident in Switzerland
Whether you live in Switzerland or you are just visiting, a car accident can be incredibly stressful. Here's what you should be aware of - and who's responsible for what.
Switzerland's roads may be windy, narrow and occasionally icy, but they are also very well maintained. 
As with anywhere though, there is always the risk of a car accident. 
Whether it is a serious crash or a minor scrape, this being Switzerland, there are many rules to follow which you should be aware of. 
Stay calm and assess the situation
First things first, make sure that everyone travelling in your car is OK. If the crash involves another vehicle or vehicle, stay calm and check on any others who may be injured. 
Put on your hazard lights and low beams - all drivers are required to have their low beams on when driving, even during the day. 
EXPLAINED: Weird Swiss laws you should be aware of
Move the car if it is in an unsafe position, i.e. on the motorway, but otherwise Swiss law states you shouldn't move them in order for an accident report to be carried out. 
If you are on the road, move the car off the road if it can be moved, but otherwise don't move it as people may think you are leaving the scene. 
Under Swiss law, everyone involved in an accident is required to stop and secure the scene. 
Most cars in Switzerland, including rental cars, will have fluorescent vests and a breakdown triangle in the boot or trunk of the car.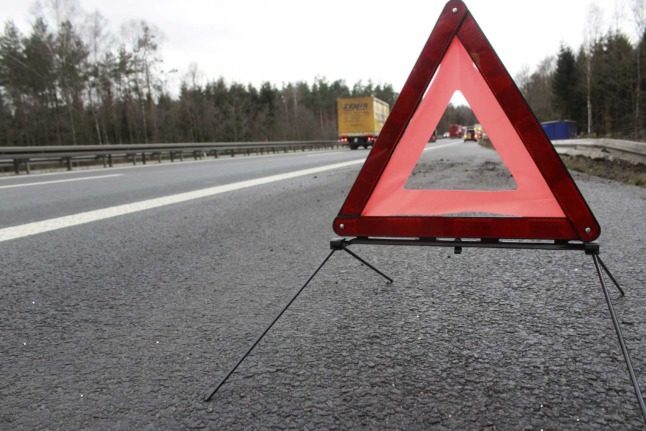 Set this triangle up far enough away from the crash site so other drivers will be aware. Image: Pixabay
Put on the vest and place the triangle at least 50 metres before the accident, or at least 100 metres on fast-moving roads. 
Taking photographs of all angles of the scene with your phone isn't compulsory, but it may assist in the instance of a dispute. 
Make a note of the licence plate number and make of the car, along with the personal details of any other drivers involved in the accident. 
Take the contact details of any neutral witnesses, in case of a dispute. 
If you need to call for help, the rescue service can be reached at 144 and the fire brigade at 118.
The police can be reached at 117. 
You can also contact roadside assistance. 
EXPLAINED: How does roadside assistance work in Switzerland?
You have two years to make a claim for damages in Switzerland, after which claims are time barred. 
Who is responsible for what in a car accident in Switzerland? 
If anyone was injured, there is a requirement to call the police (see below). 
All parties involved are required to provide assistance, even for minor cuts and bruises. 
Even bystanders are required to provide assistance under Swiss law, inasmuch as it can be deemed reasonable for them to do so. 
In serious accidents, there is a criminal offence of failing to provide emergency assistance in the case of accidents with serious injuries, with fines and sentences of up to three years possible. 
Olivia Solari, an automotive law expert from AGVS, told Swiss news outlet 20 Minutes that this does not extend to daring and dangerous rescue operations, which should always be conducted by a professional. 
Who do I need to make a report to?
Should you tell your insurance company? Do you need to tell the police? That depends on who is at fault and who is aware. 
Generally speaking, the person who is at fault should tell their insurance company. Their own insurance will handle damage to their car, while liability insurance will cover damage to another vehicle. 
READ MORE: Everything you need to know about car insurance in Switzerland
If all parties involved in the accident agree, then you may not need to tell the police, although you are obliged to call the police in the instance of a personal injury. 
Generally speaking, anything more than minor damage to the bodywork should result in a call to the police, just to be on the safe side. 
However if the question of guilt is unclear at all, then you should call the police, who will make a report. This will allow the insurance companies to determine who is at fault. 
If you hit a parked car or cause an accident where another party or parties is unavailable, you should also call the police. If you don't, you may be seen to be leaving the scene. 
You can also fill in a European accident report. While this is not compulsory in Switzerland, it is recommended. This report can be accessed here in many languages. 
READ MORE: Why your Swiss car insurance should contain a 'weasel clause'
See Also