REVEALED: What is included in this Swiss city's time capsule?
Lausanne officials have buried "treasure" under a bridge, to give future generations a glimpse into life in this Swiss city at the beginning of the 2020s. What do they want future generations to know?
The 'Lausannois' living in 2122 will be able to learn about their city's past not just from whatever search engine will replace Google, but by a far more traditional method. 
To make sure no stone is left unturned (literally and figuratively), Lausanne authorities saw the renovation of the city's Grand-Pont bridge as an apt opportunity to bury a time capsule whose contents symbolise what the early 2020s are all about in Vaud's capital city.
The "burial service" took place on Thursday, when a municipal delegation placed a metal box in a specially dug hole.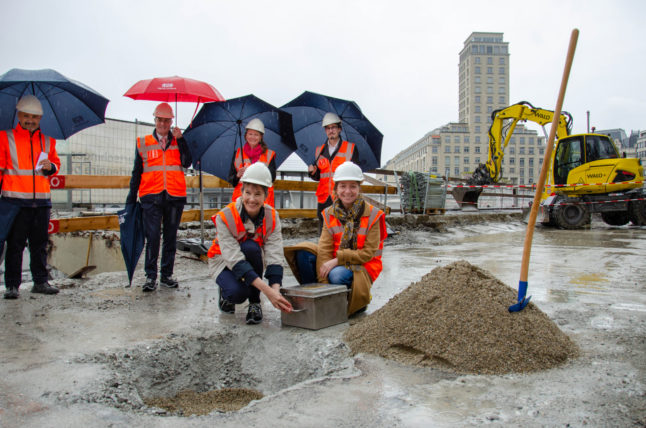 The burial is about to begin. Photo: Mathilde Imesch, Ville de Lausanne
READ MORE: Swiss town ranked the 'world's best small city'
"The objects and documents found there are intended for future generations, who will discover them during the next renovation of the bridge a hundred years from now", Lausanne mayor Grégoire Junod  in a press release.
The box contains items that are representative of the modern-day life in Lausanne; all were selected by city officials, as well residents:
Map of Lausanne
Photos of the renovation of the Grand-Pont
Covid auto-test with instructions
Mobile phone with charger
A bottle of water from Lake Geneva
A stamp showing the cathedral's watchtower
A recording of the city noises on USB key
Aerial photos of the city
Bus ticket and map of the public transport network
5-franc coin
An issue of Lausanne daily newspaper, "24 Heures"
A copy of the city's legislative projects from 2021 to 2026
"These objects are intended to be both symbolic and representative of the times in which we live, with its legacy, challenges, and hopes for the future", Junod said.
READ MORE: After 600 years of night watchmen, Lausanne gets first watchwoman
See Also