Verdict: How to save money in Bern
Want to feel the Bern on the cheap? Here's how to save a franc or two in the Swiss capital.
The home of Toblerone and Emmental, Bern can be an expensive place to live.
The Swiss 'capital' of Bern is home to a number of domestic and international organisations, as well as companies, making it a sought after location for workers. 
EXPLAINED: Why is Bern the 'capital' of Switzerland?
Bern is Switzerland's fifth-largest city on the basis of population, which makes it a little quieter than Zurich or Geneva. 
While the cost of living in Bern might be a little lower than the larger Swiss metropolises, it is still Switzerland - meaning that it can get expensive. 
In order to get a better idea of the cost of living in Bern and how to save money, we reached out to our readers to ask for their perspective - and their tips.
Here is what they had to say. 
How expensive is it to live in Bern?
Compared to other European countries, pretty much every corner of Switzerland is expensive, from Aargau to Zug. 
Fortunately however, unlike other capitals - and we are aware that Switzerland doesn't technically have a capital as we've discussed here - Bern is not the most expensive place in the country. 
The international hubs of Zurich and Geneva, with their strong job markets and expensive rents, are the most expensive cities in Switzerland to live. 
Outside of these two, the most expensive places tend to smaller areas like Saas Fee and Gstaad, which are popular both among tourists and the wealthy. 
READ MORE: The Swiss capital of Bern has a statue of an ogre eating babies and nobody knows why
More than half of those who responded to the survey told us cost of living was an issue in Bern, reflecting the fact that while it may be expensive, it's still cheaper than other parts of the country.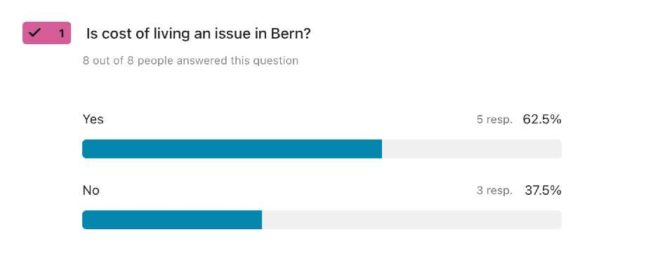 How to save money in Bern?
Many of the tips our readers gave us were not Bern-specific, but had relevance no matter where you live in Switzerland. 
Ashutosh, a relative newcomer to Bern, said "don't spend unnecessarily" while Neil simply said "spend less", which is a great way to save money wherever you are. 
Bent Mathiese, who has been in Bern for 20 years, told us to use websites like price comparison site Top Priese to get an idea of how to save. 
"I shop in Denner, Migros and Digitec. Other stores charge a premium. Uses toppreise.ch and other sites to compare prices."
Cost of living: How to save on groceries in Switzerland 
Joe, who has lived in Switzerland for seven years, said "cooking for yourself" was the best way to save.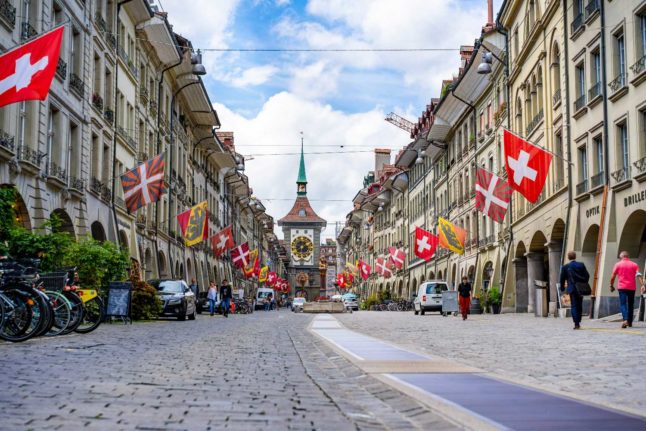 Walking in Bern is absolutely free. Photo by Alin Andersen on Unsplash
Bern-specific tips to save money
Bern residents will probably also know that some of the greatest things to do here are free. 
Swimming in the beautiful Aare river won't cost you a centime, while you can also visit the Marzili and Lorraine baths free of charge, including the use of lockers and bathrooms. 
The Rosegarten is home to a spectacular variety of flora and is a perfect place to spend a summer's day. 
While eating out in Switzerland is never cheap, signing up to the Prozentbuch - annual fee CHF45 - will get you two-for-one meals in restaurants across the city. 
Given that a meal can cost up to CHF45, eating just one meal might get you your annual fee back immediately. 
Cost of living: The most - and least - expensive cantons in Switzerland
If you are visiting Switzerland and you're going to buy Toblerone or Emmental to take home, keep in mind that they are available in supermarkets for much less than specialty stores and gift shops (and they'll still come from Bern, so they're still authentic!)
For tourists, visiting the former home of Albert Einstein will set you back just CHF5 while checking out the Zytglogge is free (guided tour starts at CHF20). 
Tell me more about Bern
Located near the linguistic border between French and German-speaking Switzerland, the capital city has a very picturesque medieval city centre recognised by UNESCO as a Cultural World Heritage Site.
Despite its relatively small size (144,000 residents), Bern also possesses one of the longest shopping promenades in Europe.
Bern. Photo by AFP
Why is this city great for expats? One of the reasons is that its central location and political status means  residents can take advantage of the frequent and reliable public transportation to other major Swiss cities.
Useful information:
Foreign nationals: 16.3 percent
Unemployment rate: 1.8 percent 
Average net monthly salary: 5,490 francs
Average rent (based on size), 3 bedrooms: 2,485 francs
Public transportation: bus, tram
Nearest international airport: Zurich, about 130 km by train or motorway
See Also