Heatwave in Switzerland: Scorching temperatures and peak days
The heatwave is expected to continue until Friday at least, with temperatures reaching 37C in parts of Switzerland - here's what to expect for the rest of the week.
Swiss will face a renewed heatwave this week, with temperatures nearing 40C in parts of the country, according to the Federal Office of Meteorology and Climatology MeteoSwiss.
The agency said that temperatures would be between 17C and 37C on Thursday.
The maximum temperatures are expected for Basel, where few clouds block the scorching sun. Geneva and Sion will also see intense heat of around 36C, and all throughout the country, thermometers will be over the 30C mark.
READ ALSO: Body stress, drought and borders: How the heatwave affects Switzerland
On Friday, the sunny weather turns to rain and thunderstorms, especially in the west of Switzerland, though temperatures continue to be high. Geneva will see a maximum of 35C and a low of 21C. In Zurich and Basel, temperatures should be between 20C and 33C.
Over the weekend, the rain clouds move to the east and south of the country, where temperatures continue over the 30C, including in Lugano (33C on) and Sion (33C).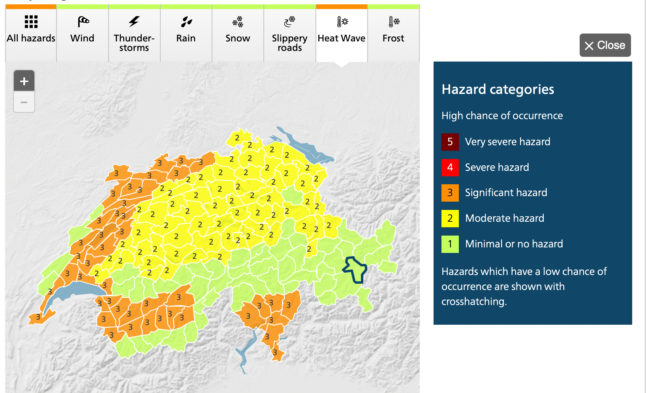 Weather alerts for extreme heat in Switzerland (MeteoSwiss)
Alerts for a heatwave in the coming days
MeteoSwiss has local warnings for a heatwave in the west and south (orange "significant hazard" warning) and northern region (yellow "moderate hazard") on Thursday and Friday. On Saturday, only parts of the south have a significant hazard warning for high temperatures.
Intense, 30C-plus heat will persist on Friday, though a few thunderstorms are expected in some areas. "That said, no real deterioration is in sight for probably at least ten days, and temperatures should remain high next week, only accentuating the already very marked drought", MeteoNews weather service noted.
Switzerland's Federal Office of Public Health (FOPH) has three "golden rules" for making it through heatwaves.
Each is relatively self-explanatory and isn't exactly unique to Switzerland, but they are worth keeping in mind.
READ ALSO: How to keep your cool during Switzerland's heatwave
The first is to avoid exercise during the hottest part of the day. The second is to keep the heat out of your house however possible.
The final golden rule is to drink and eat smart. According to the FOPH, salads, fruits, vegetables, and dairy products are best, while drinking plenty of water is a must.
See Also