Today in Switzerland: A roundup of the latest news on Friday
Property prices in the Alps are peaking
A comparison of 23 Swiss and French Alpine resorts shows that in 2022 the prices of mountain chalets experienced their strongest increase in eight years.
Mountain property prices have increased by an average of 5.8 percent in 2022, compared to 4.6 in 2021, with costs in Swiss resorts 7.1 percent higher than in their French counterparts, where they went up by 4.3 percent.
The Swiss mountain locations in Switzerland which registered with highest increases are Crans-Montana and St. Moritz (both +14 percent), as well as Klosters and Davos, at +13 percent each.
In comparison, properties in the upscale French resort of Megève, rose by "only" by 6.9 percent, and in Méribel, by 2.1 percent.
Geneva University Hospitals (HUG) authorise assisted suicide
Until now, patients meeting criteria set out in the law for assisted suicide had to leave the hospital and go through this process in an approved location.
But now HUG changed their internal guidelines for assisted suicide, allowing this act to take place on their premises, provided the patient is capable of discernment and suffers from a serious and incurable illness.
"Under no circumstances can a patient ask to be hospitalised at HUG with the sole objective of carrying out assisted suicide", the hospital points out.
Another condition is that lethal substance (pentobarbital) must be provided by the assisted suicide organisation, Exit, as prescription of this drug by a HUG doctor is prohibited. Also, it must be administered by the patient himself, within the department in which he or she is hospitalised.
READ MORE: Switzerland: What is the difference between assisted suicide and euthanasia?
Number of foreign workers in Switzerland on the rise
Between the third quarters of 2021 and 2022 (July to September), the number of foreign nationals employed in Switzerland went up by 3.7 percent, according to data released on Thursday by the Federal Statistical Office (FSO).
Among  these workers, the increase was the strongest among holders of a short-term residence L permit  (+7.9 percent), followed by residence permit B (+7.7 percent), and cross-border workers G permit holders (+5.9 percent).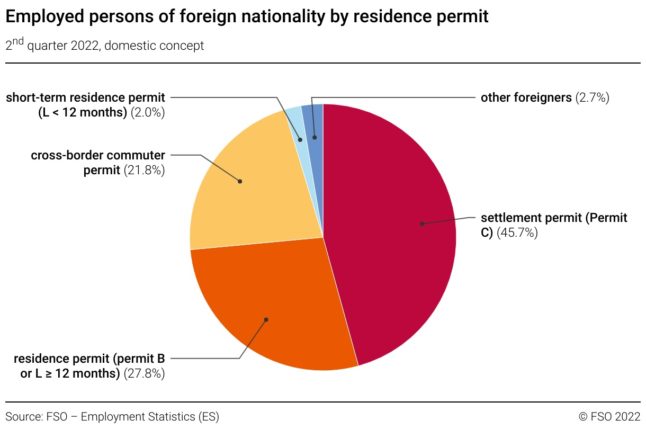 Geneva Airport will be on alert next week
If you are planning to fly out of Geneva International Airport on November 24th or 25th, be aware that an emergency exercise is scheduled to take place on those two days.
The Federal Office of Civil Aviation (FOCA) requires airports to carry out this kind of exercise at least once every two years, the airport said in a press release on Thursday.
Several elements of exercises will be visible inside the airport perimeter along the Traz route and the customs road — in particular, a damaged aircraft which will be positioned at this location.
"In order to avoid congestion around the platform, it is important to avoid as much as possible the areas of the Traz road, the freight road, and the customs road, either by car or on foot," the airport said.
If you have any questions about life in Switzerland, ideas for articles or news tips for The Local, please get in touch with us at [email protected]
See Also