Billed as Switzerland's largest sporting event, the Eidgenössische is held once every three years as a national celebration of rural traditions and alpine sports.
This year's festival, held in Estavayer-le-Lac, in the canton of Fribourg, will welcome 50,000 spectators a day to its arena from Friday to Sunday, and many more to its grounds, to watch competitors battle it out in the country's much-loved sporting traditions.
Here's our guide to the fantastic folk traditions visitors will see in action.
Swiss wrestling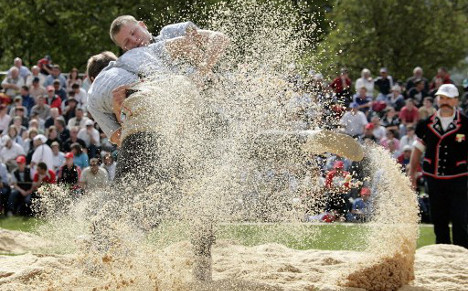 Photo: Fabrice Coffrini/AFP
Dating back to the 13th century, schwingen or lutte suisse remains an integral part of festivals all over Switzerland today. Wrestlers face off against each other in a circle of sawdust and use particular set throws and grips to chuck each other on the ground. Each wears wrestling shorts over a pair of trousers that form a handle for his opponent to grip.
The winner is the wrestler who succeeds in throwing his opponent flat on his back on the ground. Being a highly respectful contest, he must then wipe the sawdust from the shoulders of the loser. At the Eidgenössische, the overall winner will then be presented with his prize – a 900kg bull named Mazot de Cremo.
Hornussen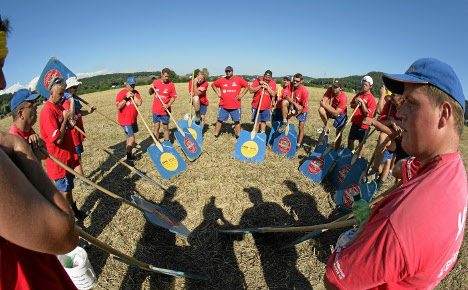 Photo:ET Studhalter/Swiss Image
Thought to have originated in the Emmental region in the 17th century, this traditional Swiss sport is seen as a cross between cricket and golf. Like cricket, players are split into two teams, with one team batting and one fielding.
However the batsman hits the puck – called a nouss – with a sort of elastic golf club, propelling it down the field, which is around 180m long and 8-14m wide.
The defending team must then attempt to intercept the nouss with giant paddles called 'schindel' by holding them up high or throwing them into the air at the nouss.
Points are given for how far the batsman hits the nouss down the field, and taken away from fielders if they fail to intercept it. The team that has the most points after each has batted and fielded, wins.  
Hornussen is traditionally played in Bern, Solothurn and Aargau, and there are around 200 clubs in the country.
See how it's played here:
Stone throwing
Another Swiss alpine tradition that's been around for centuries, stone-throwing is like shot put but uses real stones of various weights. The sport is central to the much-loved Unspunnen folk festival held in Interlaken every 12 years or so.
Such is its symbolic significance that in 1984 a Jura separatist group, making a protest, stole a famous 83.5kg stone used in the festival as far back as 1905. The stone reappeared in 2001 and then was stolen again by an unknown perpetrator in 2005 and hasn't been seen since.
A stone of equivalent weight to the original Unspunnen will be part of the competition at Eidgenössische, while competitors in other categories will throw less weighty stones of 20kg and 40kg, with or without run up.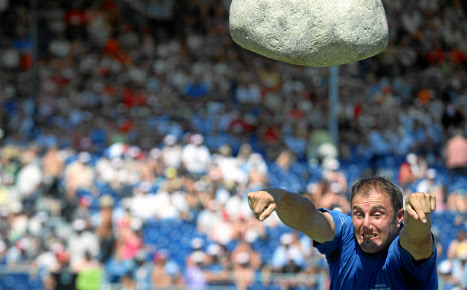 Photo: Andy Mettler/Swiss Image