Ten strange Swiss road signs you need to know about
Switzerland is a unique country and has some one-of-a-kind road signs to match. Here we take a look at some of the more unusual examples.
With its narrow, often one-way city streets and curvaceous mountain passes, driving in Switzerland can be difficult - even without these wacky road signs. 
Here are ten road signs you might encounter on Swiss streets. 
We'll try and name what we think the sign looks like in bold, before explaining what it actually is underneath.
1) Shooting noise?
A particularly Swiss sign, this one. It indicates there are military exercises going on nearby and might help explain what all those booming noises are as you drive to the supermarket. Don't be alarmed.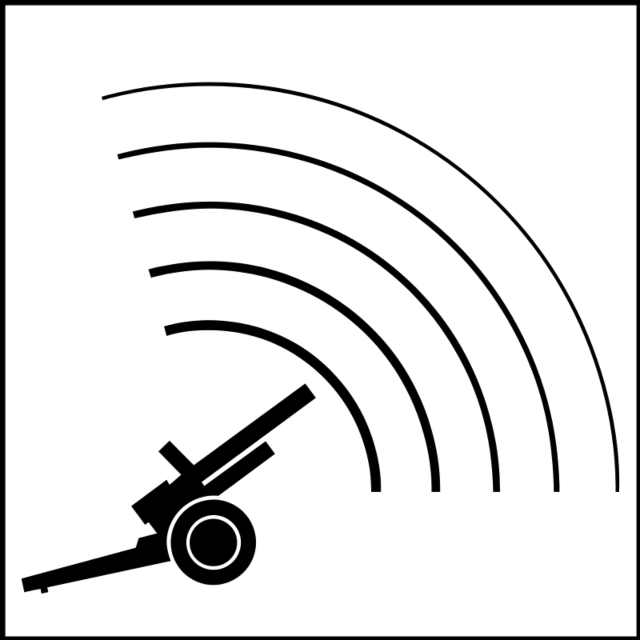 2) White-belted man rides the sleigh?
Sledding forbidden (because sometimes you have to spell these things out). 
And just as an aside, while it might be confusing to Americans and Australians who are expecting a Ghostbusters-style cross, in Europe when anything is presented in the white centre of a red circle, it is forbidden. Therefore, this is not an invitation to sled - but a warning!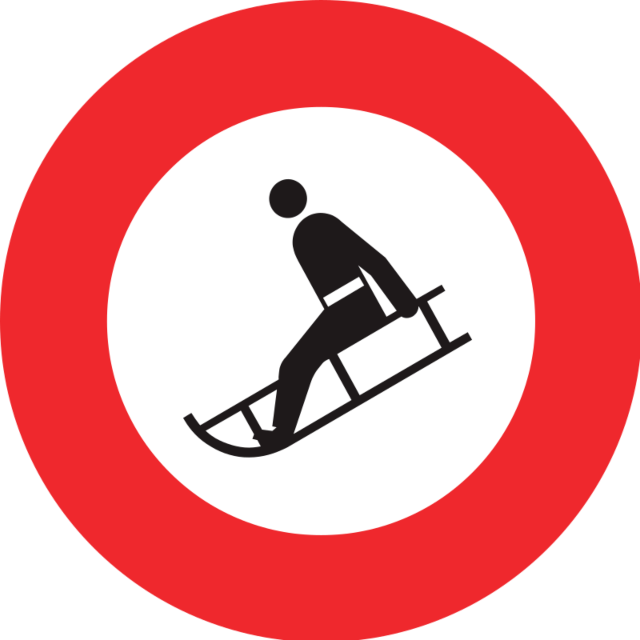 3) Heavy metal album cover from the 80s?
While it might look like a pretty sweet heavy metal album cover - perhaps with some invented language and scribblings - this sign has a far more holy origin. 
Yes, the sign below is actually about churches. At the approach to many Swiss towns, you will see a sign telling you the times of both Catholic and Protestant masses.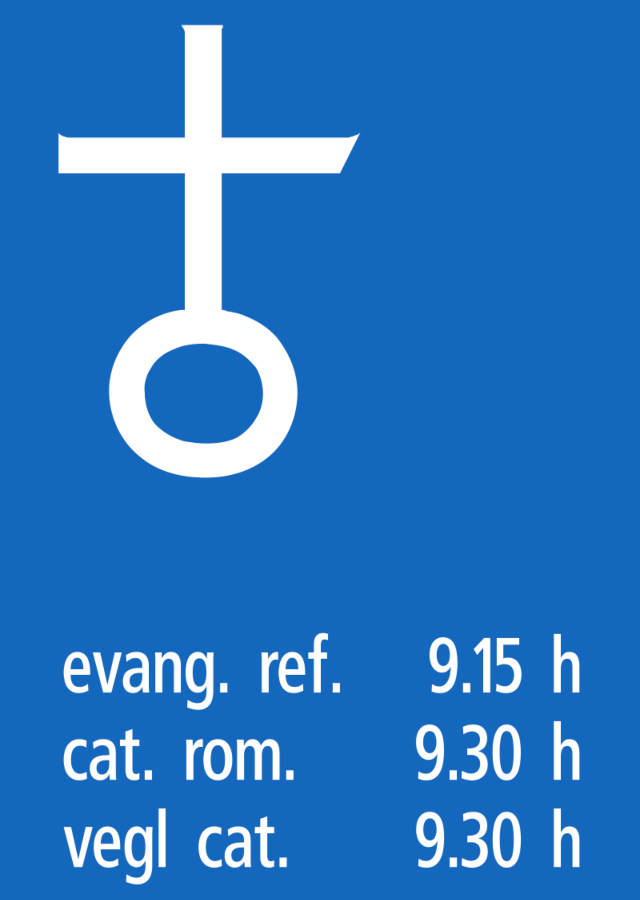 4) OK, I get it - cows forbidden?
Alright alright, I remember point number 1), this must mean that cows are forbidden in this area - which is why we don't see any in the paddock behind, right? 
Unfortunately not, as the red triangle warns motorists of upcoming dangers in the area. 
Therefore, this sign simply warns there might be cows on the road up ahead. 
A straightforward enough sign, but one you are more likely to see in Switzerland than in some other parts of the world.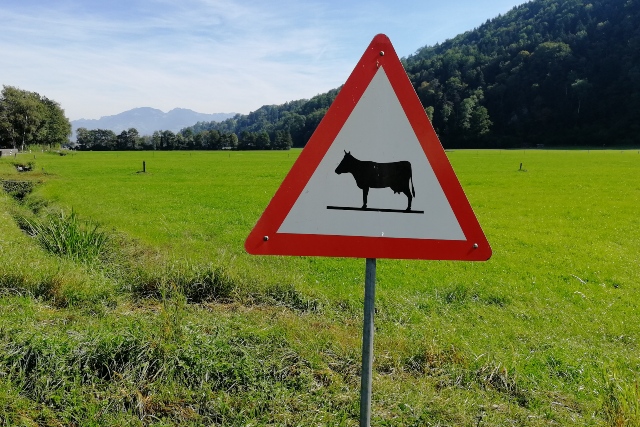 Photo: The Local
5) Tank parking this way?
No, the yellow sign below is not for a military museum and nor is it telling you where to park your tank.
It's actually a dedicated sign for military vehicles. Switzerland is, after all, a country where you can see tanks with L plates on city streets. 
The upside down red triangle is a give way or yield sign (not to be confused with the right-way-up red triangle above).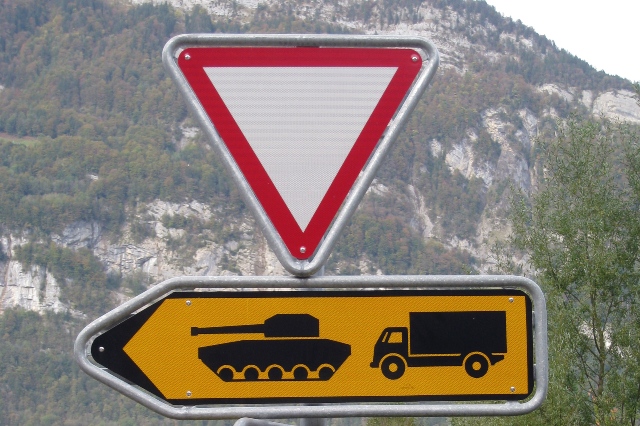 6) This one is simple - bikes on one side and pedestrians on the other, no?
Actually, this sign shows a dead end (with through access for bicycles and pedestrians). This is a really useful sign that recognises it's not just cars who use roads.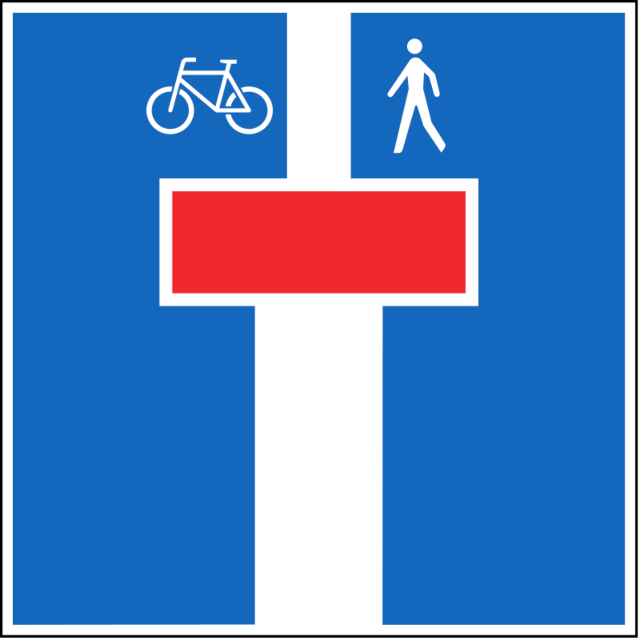 7) Um, trumpet parking....?
The sign below has nothing to do with concerts or band practice. Instead it indicates that the road is a part of a mountain bus route.
Switzerland's distinctive yellow post buses ply some pretty hair-raising routes and blow their horns on tight bends to let oncoming traffic know they are coming.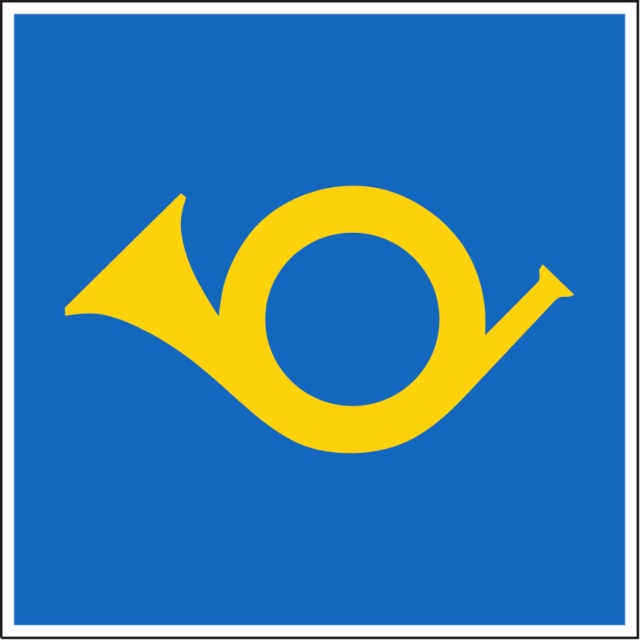 8) Oh this one is easy - don't go faster than 30?
No, it is quite the opposite. This is a minimum speed sign.
While most speed limit signs indicated the maximum possible speed you can go, the sign below indicates a minimum possible speed.
This must be adhered to in good conditions, while vehicles which cannot reach this minimum speed - i.e. tractors, smaller bikes etc - are not allowed in this area.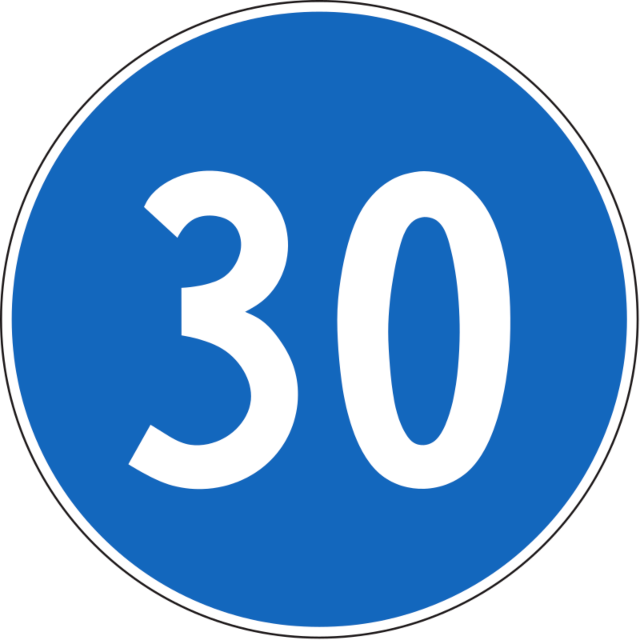 9) Alright, this one is just there to confuse me...
Mountain pass conditions. Switzerland is crisscrossed by a network of mountain passes, many of which are closed for the duration of winter.
This sign indicates the status of a number of passes. You can see that you can only use the Gotthard with chains while there is a risk of ice and snow on the Oberalp.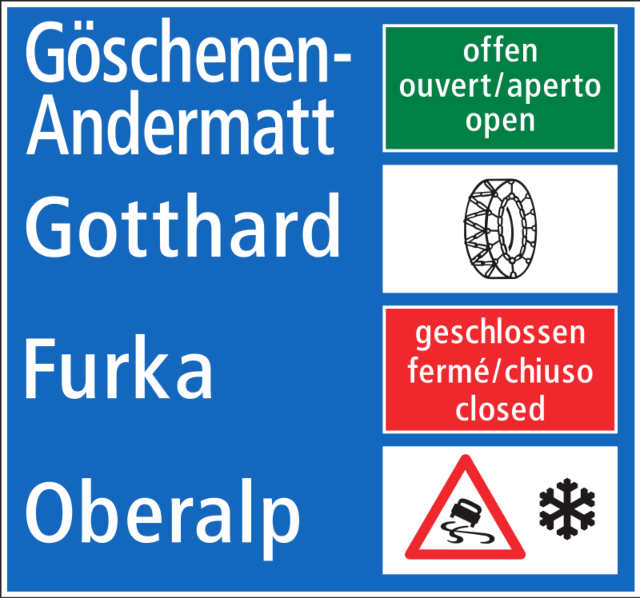 10) Different retro vehicles inside a peace sign - is this a James Bond poster?
Wrong again. This sign says that all motorised vehicles are forbidden within a particular area.
This is a common sign in Switzerland and means that a road is closed to cars, motorbikes, fast e-bikes and the sort of low-powered motor scooters Swiss teens like to get around on.
You can, however, still use a regular bicycle on this road, or a low-powered e-bike.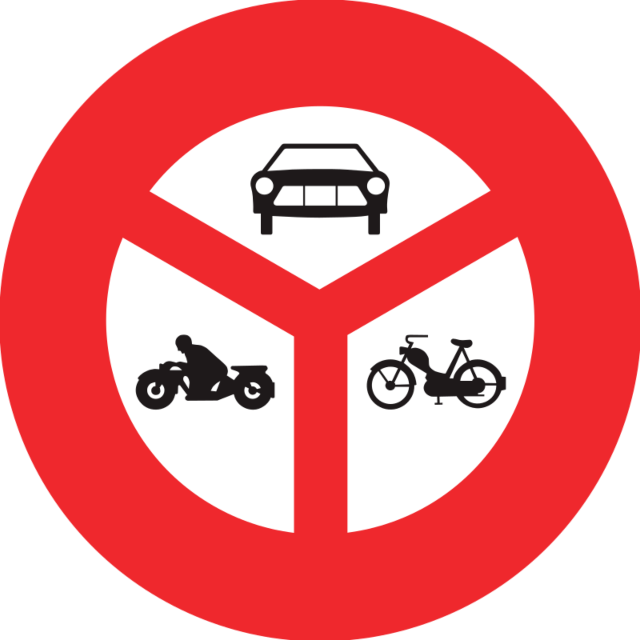 See Also