What are Switzerland's coronavirus hotspots right now?
Although less Covid-19 infections are being recorded in Switzerland right now, some cantons are hit by more cases than others.
The five cantons in which the virus is spreading the fastest are all French-speaking, according to data from the Federal Office of Public Health (FOPH). 
On Tuesday, Vaud registered 313 cases per 100,000 inhabitants over the past 14 days; Fribourg reported 315, the Jura 321, Geneva 353, and Valais 359. The only exception is Neuchâtel, with 241 cases.
In the Swiss-German part and in Ticino, the epidemiological situation is slightly better, with the infection rates in each canton under the 300 mark.
READ MORE: Covid-19: Which Swiss towns are hotspots for new virus variants?
The map below shows where the hotspots (rates exceeding 300 cases per 100,000) are. The darkest colour means highest numbers, while the lighter one shows where the rates are lowest.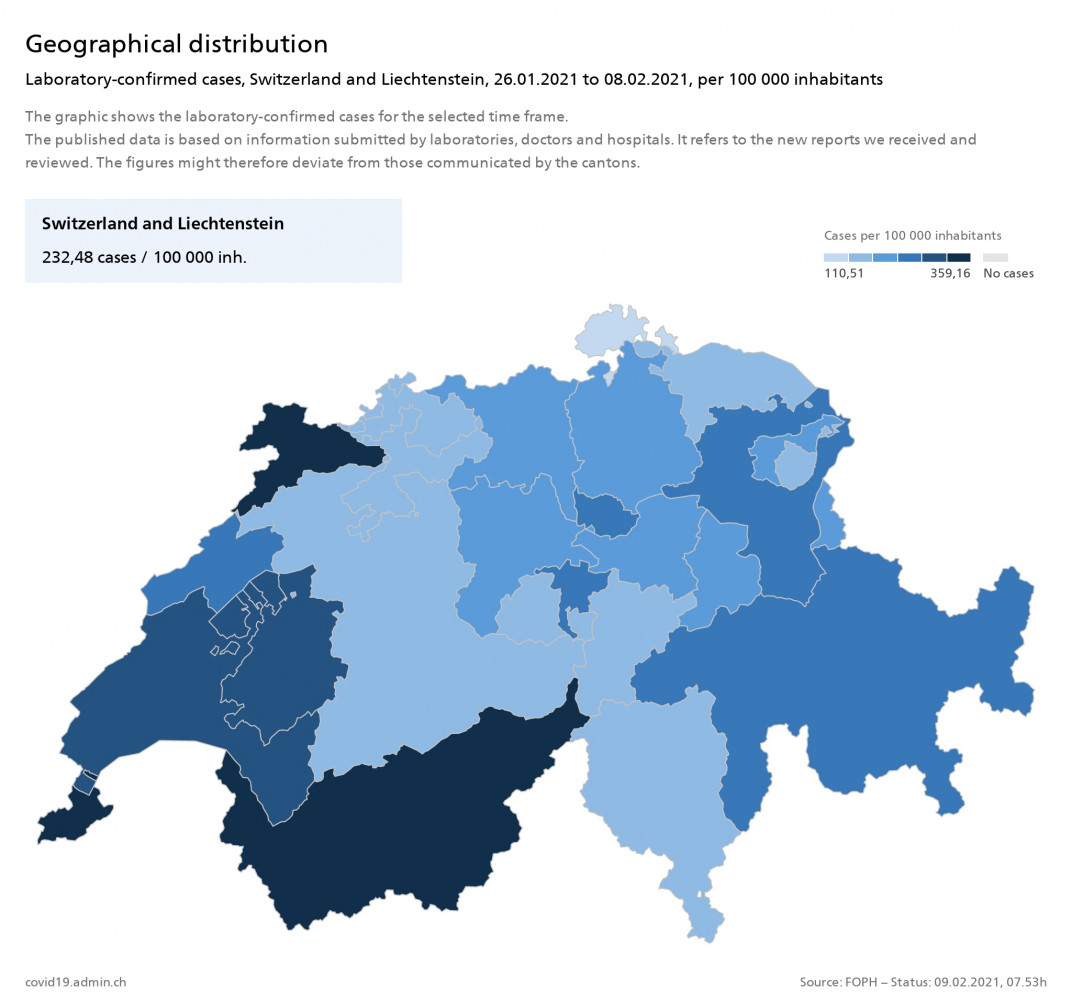 The situation is eerily similar to what happened in the fall of 2020, when French-speaking cantons had the highest number of coronavirus infections, not only in Switzerland but also Europe-wide.
The German speaking region, on the other hand, had a much lower rate of infections at the time, prompting the Swiss to coin a new expression, 'coronagraben' ('corona divide'), to describe the divergent epidemiological situations in French and German-language cantons.
By December, however, after the French-speaking region had implemented a raft of restrictions to curb the alarming increase in infections and hospitalisations, the trend had shifted, with Swiss-German cantons, along with Ticino, being the new hotspots.
The overall situation has improved in the last three months, the rate of infections dropping from 5,595 per 100,000 in the fall to 233 /100,000 currently.
The only difference is that mutated coronavirus strains from the UK, South Africa and Brazil are now spreading fast across the country and is expected to be present in almost all contaminations by April – May. 
READ MORE: UPDATED: Switzerland records first case of Brazilian coronavirus mutation 
 
See Also